TOUGH decisions about disposing of another round of breeding cows out of drought-ravaged regions of NSW and Queensland are driving big kills during February.
The eastern states weekly kill report for the week ended Friday shows female slaughter numbers up sharply in both northern states, since the start of the month. Overall kills last week across the five eastern states reached 146,578 head – easily the largest weekly throughput for the year so far.
Female kill in NSW last week reached above 18,700 head, representing almost 52pc of the state's overall kill – up 15pc on the same week last year. The comparison was even more extreme in Queensland, where last week's cow and heifer slaughter, above 32,000 head, was 32pc up on last year.
Processors as far north as southern Queensland are taking large numbers of cows out of southern Australia presently, right across NSW and into northern Victoria, as well as cattle north of the border.
Queensland processors say they are now well-covered for supply for the remainder of February, booking cattle for week commencing 4 March.
In the saleyards system, Inverell sale today included about 1700 cows, with large numbers also reported at Gunnedah and Roma store sale today.
The longer-term concern is the damage that continued erosion of the breeding herd base is doing to recovery prospects, on top of the tragic losses of hundreds of thousands of breeding cows and young cattle across the northwest Queensland flood zone.
Processors this morning said it was evident that many NSW/QLD producers had reached another decision-making point in herd reduction in the current drought cycle.
Declining slaughter cow weights is adding to the burden. One processor said that good heavy cows that were coming out of centres like Tamworth a few months ago at around 300kg were 270kg or less today.
"They're cows we can still do something with, but equally there are a lot of very light cows now coming forward," he said.
"There's plenty of cows now arriving at 200kg or even less," he said. "They become very inefficient to kill at those weights, especially when we're losing money on cow hides, as we are at present. Most of that meat goes straight into manufacturing, and boning room yields can be very poor on light cows."
One southern Queensland processor described a large run of Angus cows slaughtered this week out of northern NSW, some of which had carcase weights of 180kg. "Under normal conditions, those cows would weigh, 260-300kg, so they were probably 100kg carcase weight lighter than they should be," he said.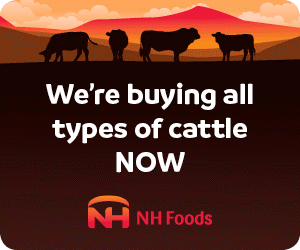 "Get to the end of the week killing light cattle like that, and you can be way behind on boneless beef weight in the chillers, while processing the same head-count of animals."
Reflecting this lack of profitability on lighter cows, processor grids typically show more severe discount penalties, the lower the weight ranges go. One typical southern Queensland grid this morning showed a 35c/kg price gap between cows 300kg+ and cows less than 200kg carcase weight, with the biggest drops at the bottom end of that weight range.
Lack of feed and increasingly, lack of surface water was pushing more cattle like this to market.
"Unfortunately these are not animals being culled for age or fertility performance, but are out of the heart of the herds. Suppliers keep tightening the belt and staying in survival mode. The only good thing is that cows are still making reasonably good money," one processor said.
Post-Christmas domestic meat sales flat
On the meat sales front, domestic trade is described as very flat at present – not unusual for February, after the Christmas holiday hangover – which is tending to push more product onto international markets.
If there is any saving grace in the current slaughter cow market climate, it is a significant rise reported in imported grinding beef prices into the US over the past fortnight. Prices this week into the US are quoted at 450c/kg, the best money seen since July 2017. More on this in a separate report later this week.
Some grids show easing trend
As this report was being compiled this morning, some Queensland processor grids had eased 5c/kg, in response to the supply of slaughter cattle available.
Quotes obtained this morning from competitive southern Queensland processors for kills in coming weeks included four-tooth steers 520-525c/kg and cows 440-445c.
Central Queensland rates were typically 5c/kg behind the southern parts of the state. Across the border in northern NSW, one export processor has offers for kills week commencing 4 March of 470c/kg on four-tooth steer and 400c/kg on heavy cows.