AFTER five or six months resorting to a 'just in time' approach to slaughter cattle supply, the recent uplift in numbers is seeing some processor livestock buyers filling their booking schedules for the next couple of weeks.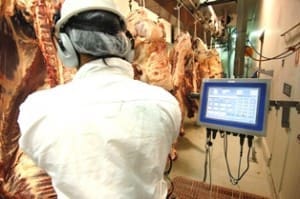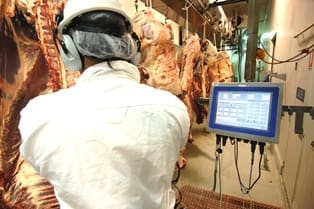 Several large Queensland multi-site processors this morning told Beef Central they now had kill slots more or less covered until operations week commencing November 21.
Recent hot, dry days have probably hastened a few more sale decisions among suppliers, but that process had already started before the recent hot spell.
It's been a long time since eastern states processors have had placements covered that far forward, and reflects the current encouraging lift in cattle supply. That's not likely to see a full restoration of operating shifts, however, with most plants maintaining reduced output to year's end, in the knowledge that 2017 is not looking any better, supply-wise.
The recent lift in cattle flow also explains a further 5c/kg dressed weight grid price decline evident on some Queensland direct consignment grid offers this week, on top of earlier falls of 25-35c/kg since the bell was rung at the top of the market in mid-October.
The larger in-flow of cattle which started three or four weeks ago has had a clear impact on grid pricing. Certainly some vendors have seen this movement as the shift in the cycle, and elected to consign cattle before further price deterioration occurs.
Depending on location, SEQ processor grids currently are offering 535-545c/kg the four-tooth ox, and 485-490c/kg for heavy cows. Across the border, a northern export plant has offers for kills week commencing 21 November of 540c for no-HGP four-tooth steer and 470c for heavy cow.
Last week's eastern states kill reported by NLRS also reflected the growth in slaughter cattle availability, with a five-state tally of 129,064 head processed for the week ended Friday.
While that's about 3pc behind the week before, it still represents a dramatic rise on the previous two months, where kills struggled to exceed 115-120,000 head. Contributing to the slight decline last week was Butcher's Picnic holidays observed at a number of Queensland and NSW plants, with a few more scheduled for this week.
Queensland's kill last week eased 4pc to 67,964 head, still back 12pc on this time last year, while NSW softened 3pc to 29,541 head.
Further south, Victoria killed 18,691 head for the week, back 5pc, while both South Australia (8533 head) and Tasmania (4335 head) were higher – 16pc and 2pc respectively.
ABS data tells story of a tough year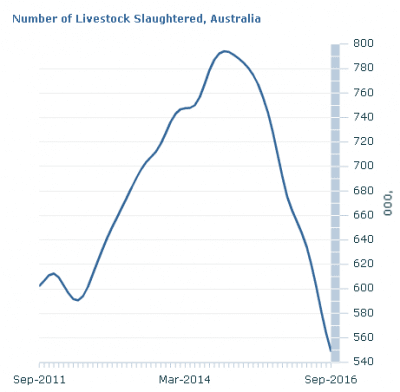 The Australian Bureau of Statistics yesterday issued this graph, which presents the 2016 slaughter cattle supply predicament in a somewhat different, but equally dramatic fashion.
The graph published here plots national adult beef kill (includes Western Australian statistics, unlike our regular eastern states weekly kill report) on a monthly moving average basis since 2011.
The results are seasonally-adjusted, removing the estimated effects of normal seasonal variation (i.e. Christmas plant closures) from the series, so that the effects of other influences can be more clearly recognised.
What it shows is:
The dramatic slaughter lows back in 2011-12, when back-to-back very wet years greatly limited access to slaughter cattle, as producers held stock back for herd rebuilding
The steep and sustained climb in rates of monthly kill through the 2014-15 drought years, and finally
The equally steep and dramatic collapse in monthly slaughter in 2016, as the national beef herd sinks to 20-year lows. The graph is current to the end of September, meaning it has not yet captured the recent modest upswing in slaughter numbers heading into summer.
Cattle slaughter decreased by 3pc in September 2016 compared with August 2016, the ABS statistics suggested, down by 179,558 head or 25pc year-on-year.