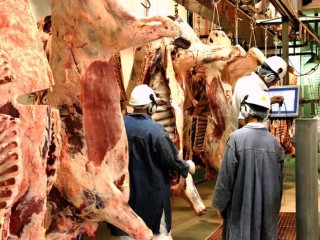 Drier conditions making it easier to shift stock, and the onset of frost and cold weather pushing cattle onto the market saw slaughter rates rise last week – in some States, dramatically.
The National adult cattle slaughter for the week ended last Friday (May 13) reached 146,939 head, the highest weekly tally for the calendar year, and the biggest since the last week in May 2010.
Last week's kill was up 7 percent on the previous seven-day cycle, which was impacted somewhat by a Labour Day Monday holiday in Queensland.
The Queensland weekly kill of 78,512 head was up 14 percent on a week earlier, but almost identical to the same week last year.
Other states recording week-to-week increases included Victoria (18,794, +3pc); South Australia (7955,+10pc); and Tasmania (1706, +17pc). New South Wales recorded the only decline, down 1pc. Western Australian figures are not recorded by MLA's NLRS service.
The national weekly kill is now nudging 150,000 head – a figure not seen for almost two years.
In additional to normal seasonal turnoff, the recent cold snap has sparked a push by some producers to lighten-off numbers as feed deteriorates, although many are in a better position than most years, given the volume of feed on hand going into winter.
Extra shifts being implemented at several export and domestic sheds may also have contributed to the growth in numbers last week. Another factor may have been a run-down on domestic beef inventories, due to the succession of two (three in Queensland) short kill weeks since Easter.
Some major metropolitan wholesalers in the Sydney and Brisbane markets have commented recently on the big stresses that back-to-back short weeks put on their ability to supply retail and food service customers with product.