WEIGHT and grade direct consignment slaughter cattle prices continued their period of remarkable stability this week – sailing along at or near record highs, despite big losses being racked-up by export processors.
JBS remained inactive in the saleyard market this week, still focussed on clearing the backlog of cattle caused by the company's week-long closure of Australian processing operations that started after the 31 May cyber attack.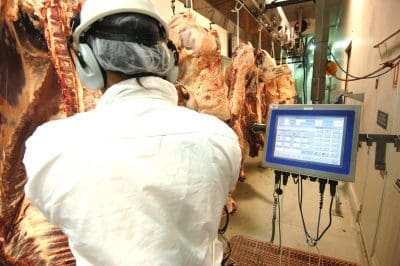 The company has scheduled full five-day kills at all its Queensland sites this week, partly to get on top of the backlog, and last week re-instated direct consignment slaughter grid offers after a week on the sidelines.
Most large Queensland export processor grids have now remained unchanged since 27 May, and in some cases in southern states, tracing back 11 May, representing a particularly long period without adjustments.
Best offers seen for direct consignment grassfed heavy ox in the southern Queensland region this morning were 665-685c/kg for four-tooth cattle (some of those higher quotes HGP-free only), and ranging from 610-625c for heavy cows.
The upper end of those cow quotes represent another record high for processors in Queensland, and reflects the recent sharp rises seen in manufacturing beef pricing into the US and other export markets.
Offers from Central Queensland plants are 10c/kg below those rates this week.
Frost impact on pastures in susceptible areas is pushing a few more slaughter cattle to market in Queensland and NSW this week, processors say, and there is momentum being seen in large runs of western and northern cattle from extensive pastoral areas.
Most Queensland plants appear to be running five days this week, albeit at reduced numbers per shift. Many southern plants, approaching the mid-winter slump in supply, are killing four days this week, Beef Central was told.
Further south, export processors in southern regions of NSW are this week offering 695c/kg on heavy four-tooth grass steers and 620c/kg on heavy cows, while eastern regions of South Australia have four-tooth steers at 695c, and heavy cows a record-equalling 640c/kg.
Big negative processor margins continue
Negative margins on all slaughter cattle continue through June, recent calculations suggest suggests one export livestock buyer said.
"Recent improvement in manufacturing meat values are helping a little, as are better hides values, but losses on slaughter cattle are still very large, by any standards," one processor told Beef Central this morning.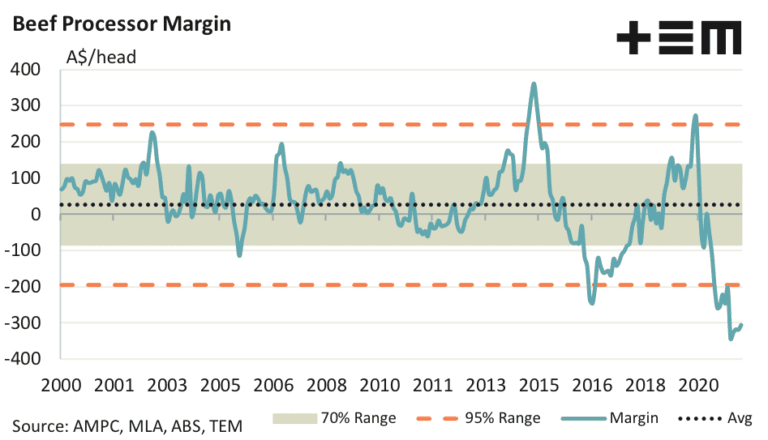 Thomas Elder Markets latest processor margin published last week recorded its fourth consecutive month with a loss in excess of $300 per head, for cattle processed for the month of May.
The latest calculation recorded a $306 average processor loss.
The previous margin figure for April was revised down from a $336 loss to $319, as updates to the co-product values provided additional benefit to the processor bottom line, TEM noted.
"Accounting for the updated inputs to the model, this brings the annual average processor margin for the 2021 season to $322 per head of cattle processed," analyst Matt Dalgleish said.
Analysis of the historic monthly pattern of beef processor margins since 2000 shows that movements beyond a profit of $220 per head or below a loss of $195 per head would be considered extreme, as identified by the 95pc range boundary (dotted orange lines).
Some stakeholders has asked why the fluctuations in the processor margin appeared to be growing – with noticeable wider volatility in movements for the most recent decade (2010 to current) compared to the previous decade (2000 to 2010).
"In the previous decade, the margin never extended beyond the extreme 95pc range boundary – however since 2010 we have seen it occur four times," Mr Dalgleish said.
One aspect to consider was that the price of cattle, a key cost input to the processor model, has risen significantly, with much of the price growth occurring in the last decade. Perhaps a more fitting measure of the long-term volatility in processor margins is to compare the margins as a percentage of the cattle price, he said.
Using this method of comparison highlights that extreme peaks in the processor margin on the profitable side of the ledger, greater than 65pc of the heavy steer price, have occurred just three times in the last two decades. Meanwhile, losses would not be considered extreme until they extended beyond 40pc of the heavy steer price.
"The current period of processor losses is the first time in the last two decades that margins have moved into territory that would be considered 'extreme'," Mr Dalgleish said.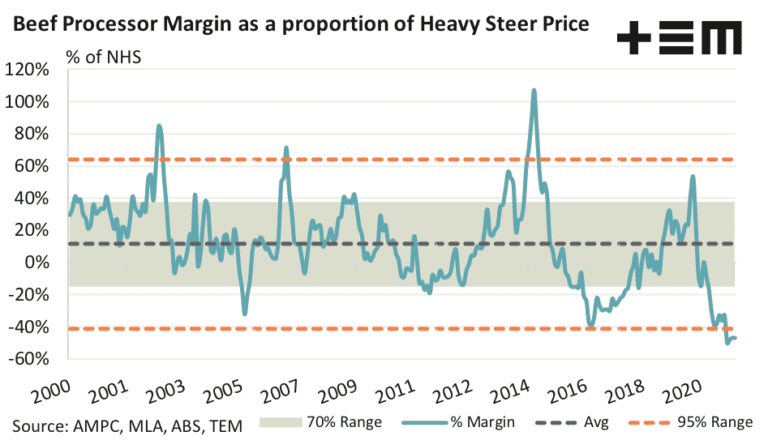 The margin loss for May of $306 sits at 44pc of the heavy steer carcase weight price.
In April 2021, Meat and Livestock Australia published its revised projections for the Australian cattle market indicating that annual slaughter will be lower than anticipated this season. Slaughter is now forecast to come in at 6.4 million head this year, compared to 6.9 million head that was anticipated back in February, when the 2021 cattle market projections were first released.
Furthermore, MLA revised slaughter levels down for 2022 from 7.2 million head to 6.8 million head.
"The correlation analysis between annual slaughter and annual average processor margins highlights that during periods of very low slaughter the processor margin comes under significant pressure," Mr Dalgleish said.
"Based on a line of best fit, the annual slaughter forecast of 6.4 million head suggests that processor losses would average $150 per head this season. Although, it appears more likely that by then end of 2021 average annual processor losses will exceed this figure," he said.
More worryingly, based on the historic relationship between slaughter levels and processor margins, the processing sector was not likely to return to profitable operations until sometime during the 2023 season.