Hot, dry conditions and lack of follow-up rain across the eastern states has maintained a flow of slaughter cattle through November, leaving most processor grid offers little changed for another week.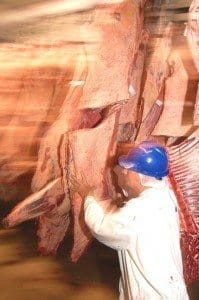 Last week's eastern states kill reached 138,056 head, down 1pc on the previous week, with most states showing little change.
Processors this morning said there was a little more vendor inquiry ahead of upcoming Christmas closures at some plants, but not enough to consider attempting to reduce rates.
Queensland's kill for the seven days to Friday reached 68,533 head, more or less the same as the week before, but still 5pc higher than the equivalent week last year.
NSW throughput reached 34,657 head, down 1pc on the previous week, while Victoria was back 9pc to 24,024 head. South Australia was the big mover, with a 26pc increase in beef kill to 6009 head for the week, while Tasmania dropped 4pc to 4833 head.
While there has been some beneficial, if patchy storm rain across Queensland's interior and eastern parts of NSW and Victoria over the past seven days, registrations have not been widespread or deep enough to impact supply.
Competitive offers in southern Queensland grids this week are unchanged at 550-555c/kg for four-tooth heavy grassfed ox, and 480c/kg for the best of the heavy cows – still the best money seen since October 2016.
NSW direct consignment rates are also showing little or no sign of change, averaging 516c/kg for heavy four tooth steer last week, with cows 260+kg offered at 424c. In Victoria, grown four-tooth steers averaged 503c last week, and cows +260kg 387c.