THE sharp contrast in weekly slaughter numbers between 2017 and 2018 continues through August, as the flow of slaughter cattle, especially cows, out of drought affected areas continues to make its way to market
Last week's eastern states slaughter tally of 138,128 head was 9pc higher than the corresponding week last year, and the week before, the figure was 10pc higher.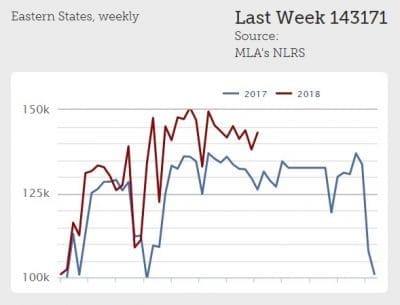 It's typical of the pattern seen across much of the first eight months of 2018, as mounting drought pressure across NSW, parts of Queensland and the Northern Territory continues to push cattle to market. The contrast in processing numbers can be seen in this graph from Beef Central's home-page industry dashboard.
Female slaughter numbers emphasises this further, with cow and heifer numbers in Queensland last week up 28pc compared with the previous year. The week before (week ending August 10), NSW accounted for an incredible 42pc change on the same period last year.
While slaughter cows are being directed at processors from a wide area, north as far as the Barkly Tableland and western Queensland into central areas of the state and the southwest, cow slaughter weights in Queensland have held up better than some processors had anticipated. The same cannot be said for NSW cows, however, with some processors remarking on the slide in body condition and weight since the start of July.
The continued strong flow of slaughter cattle has kept a lid on grid prices across Queensland and NSW during August, at a time when traditionally, markets start to rise.
Grid prices in southern Queensland remained unchanged for another week last week, with four-tooth export-weight grassfed steer fetching 485c/kg from competitive processors, and heavy cows 415c.
A northern NSW export processor has offers out this week for slaughter week commencing 3 September of 400c/kg on heavy cows and 460c/kg on four-tooth steers.
Further south, a Wagga Wagga export processor has offers of 515c/kg for four tooth steers and 420c on cows; with identical money on offer at Naracoorte.
Processor livestock managers in Queensland report reasonable bookings through the rest of August and into September. "It looks like cattle will just keep coming until the weather changes," one contact said this week.
Some coastal-area rain is forecast later this week, from southeast Queensland down to southern NSW, but large-scale interior country areas look unlikely to benefit to any great extent.
Long term damage
The longer the drought persists, the more attention is starting to focus on the long-term damage in terms of slaughter cattle supply next year, and the prospect of decent calf numbers for the year after that.
"Every week that this goes on, it drives another nail in the coffin for business in 2019 and even 2020," one processor said this morning.
Last week's NLRS eastern states slaughter tally of 138,128 head was back 4pc on the week before, but was still 9pc higher than last year.
Queensland's kill dropped 6pc on the previous week to 70,592 head, impacted in the southeast corner by the Brisbane Show public holiday.
NSW kills also declined 5pc to 33,391 head, while Victoria's kill lifted 7pc to 25,088 head.
South Australia improved 1pc to 4754 head, but the 31pc decline compared with last year continues to reflect the closure of the TFI Murray Bridge plant due to January's fire. Tasmania's kill eased 10pc to 4303 head for the week.