STRONG international beef demand coupled with an easing Aussie dollar continue to underpin record high slaughter cattle prices in some areas, despite another substantial drought-forced wave of slaughter and store cattle hitting the market this week.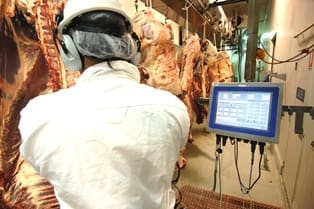 Queensland direct consignment rates remain unchanged this week, with four-tooth grassfed heavy steers currently quoted by processors across the southern and central parts of the state at 600c/kg (some sites 10c/kg less for HGP-implanted descriptions), and heavy cows at up to 500c/kg, after climbed to all-time record levels three weeks ago.
Queensland prices started to lift in late September, and have now improved around 50c/kg on cows and 40c/kg on steers, in a series of rises.
Another big flush of slaughter cattle
Processors spoken to for this report said the latest blast of hot weather and lack of further signs of rain after earlier falls had seen cattle buyers' phones again start to ring this week, as producers make further decisions to sell-down in the lead-up to Christmas.
With just five killing weeks left in most large processors' 2019 work calendars, some Queensland plants are already two weeks forward on kill slots, and now expect to be fully-accommodated through to final kills around 19/20 December. Some southern states export processors are now fairly heavily booked through to Christmas break.
The saleyards system is showing similar signs of a flush in turnoff, with Roma sale yesterday lifting numbers by 5000 head to 8052 head, another 8400 head in Dalby today, and 4500 in Blackall tomorrow. Wagga sale on Monday also followed the rising trend, with more than 6000 head yarded – up about 2300 on the week before. The bigger numbers did impact the market over some categories, market reporter Leanne Dax said in her weekly commentary.
"There's still more cattle about than capacity to kill them this side of Christmas, provide it doesn't rain," one multi-site processor told Beef Central said this week.
"Whatever green pick that emerged after the rain a fortnight ago could be gone in another week, without follow-up," he said.
On top of already huge gains, lean imported grinding beef prices into the US climbed another 54c/kg a fortnight ago, currently stand at 819.3c/kg CIF. Driven heavily by China, lean grinding beef prices have climbed steadily throughout the year, from a low point of 600c/kg back in January – a 37pc jump in ten months.
Over the hooks quotes
NLRS over the hooks summaries for direct consignment cattle reported no significant changes in NSW last week, but some modest rises in Victoria for grown steers and cows.
NSW grids saw heavy cow quotes peaking at 468c, while grown steer prices averaged 525c/kg.
In Victoria, cow grid offers last week lifted another 2-3c/kg on average, while grown steers added 3-4c/kg in value. Quality heavy cows +280kg without too much fat cover were quoted at 467c, and grown four-tooth steers +300kg at 560c.
Some large processors are now starting to discuss season closure dates, with 19 December nominated by several as the last 2019 kill, followed by last boning shift the following day. Some sites will close the week before, with last kills on December 12.
Several will hold their first 2020 slaughter shift on Friday 3 January, allowing normal boning shifts to recommence on Monday 6 January.
The eastern states kill tally for last week supported the bigger numbers, with a tally of 154,397 head across the five eastern states for the week ended Friday.
Queensland's kill was up 4pc to 80,330 head, while NSW rose 1pc to 38,291 head. Both Victoria's kill (Melbourne Cup Day holiday) and Tasmania fell sharply, with Tasmania back 19pc to 3992 head and Victoria 26,951 head. South Australia lifted 1pc to 4833 head.