DIRECT consignment slaughter cattle grid prices have continued to slide this week under mounting cost-to-operate pressures being experienced by meat processors, as well as modest growth in paddock cattle supply heading into April.
In Queensland, grids from some large multi-site export processors have fallen 20-30c/kg on the steer and cow, with heavy cows now worth 725-730c/kg and four-tooth heavy ox 790-795c/kg. Some of those adjustments have happened in two instalments starting the previous week, while others have moved sharply, in one jump this week.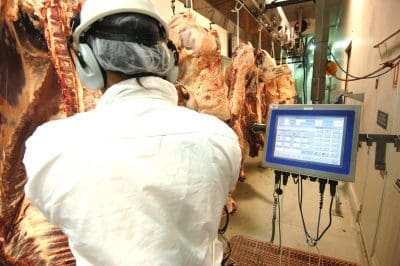 Another large Queensland competitor is not quoting at all this week, confident it has its available kill slots covered until after the Easter break.
In southern states, best heavy grass steer money seen this morning was 730c/kg on heavy cows and 810c/kg on heavy grass bullocks, although export steers remained very hard to find, making price offers almost irrelevant.
One of the strong underlying influences on price adjustments this week is sea freight rates, which have exploded again on the past couple of months (see today's separate report).
One processor contact this morning said freight was having a 'huge impact' currently on slaughter cattle pricing.
Several said there were a few more cattle about, heading into April, and they were filling up requirements so quickly on weight and grade cattle at present, that it was not leaving a lot of space for 'top-up' cattle out of the saleyard system. Time of year, and the three short killing weeks were influencing that.
Coupled with that, many livestock transport rates have lifted around 10pc in the past couple of weeks as a result of recent fuel price surges, further adding to supply chain costs.
To be fair, this week's slaughter cattle pricing adjustments are also being influenced by a wider range of factors, including the three consecutive short processing weeks ahead for Easter and Anzac Day; and the resurgent exchange rate impacting our competitiveness in international markets (the A$ was trading yesterday at US75.4c, up 3.5c from where it sat in mid-March).
COVID infection is also re-emerging as an issue in some regional Queensland plants, in line with trends being seen in the broader community. One Central Queensland plant has 18 absentees this week, due to a local spike. If the trend continues, further disruptions to kill shifts could again re-emerge – in turn limiting demand for slaughter stock.
Kills ease slightly
The national beef kill for the week ended Friday eased a little, with 96,851 head processed for the week, down 2pc on the week before. This week and next week are likely to lift a little, as operators attempt to build volume before the arrival of three consecutive four-day working weeks.
Queensland's kill last week was stable at 49,571, with the female portion still very low at 30.8pc.
In NSW, numbers fell a little to 25,068, while in Victoria, numbers were steady on the previous week at 11,889. South Australia recovered from its two-week slump to reach 3247 head last week, while Tasmania was steady at 4222. Western Australia dropped a little to 2854 head, before entering the Easter/ANZAC Day cycle which will impact all states from next week.