STRONGER demand and prices for Australian export beef is a helping underpin a 20-40c/kg rise in direct consignment slaughter cattle prices in Queensland and southern states over the past couple of weeks.
Competitive processor grids in Queensland this week have four-tooth grass export steer at 680c/kg – up 30c/kg on offers seen just before Beef 2021 started a fortnight ago – with quality heavy cows 600c/kg – also up 30c. Some MSA cows this week are attracting offers of 610c, with Queensland certified grassfed steer programs (no HGP, but varying depending on the strength of the program) ranging from 700c/kg to 770c/kg.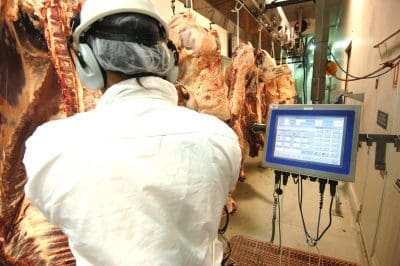 To refresh readers' memories, the absolute top of the price cycle seen last year reached 690-695c on four-tooth grass steer, and cows 620c/kg – within sight of current Queensland rates.
Southern state grids have also strengthened dramatically in early May, with southern NSW publicly-disclosed grids this week in record territory at 695c/kg on four tooth steer and heavy cows 620c. That's a rise of 30c on cows and a whopping 50c/kg on heavy steers since late April.
Grids representing processors in eastern parts of South Australia are also cracking records this week, offering a whopping 640c/kg on heavy cows (up from 600c in late April), and 695c/kg on four-tooth steer (up 40c).
As weekly eastern states kill data illustrates (see details below), supply continues to be challenging for most, if not all eastern states processors, however there are more large plants in Queensland and northern NSW completing a full five-day weekly roster than there was a month ago. The onset of colder weather and frosts is inevitably motivating a few more vendors to pick up the phone to their preferred buyer. The need to pay a few bills after spending-up during Beef 2021 in Rockhampton has evidently also motivated a few more sellers this week.
Despite this, some large Queensland processors say they are only a week forward on slaughter cattle direct consignment bookings, when in a normal year in May they would be at least double that.
Processors this morning described slaughter cattle supply in southern states as 'extremely tight', despite the rapidly drying conditions, with large export sheds in southern NSW and SA again operating for four days only this week.
One southern processor contact this morning described the current supply challenge as "very, very difficult."
Lift in meat sales
The other factor in play in slaughter cattle price movement has been the outlook from the meat sales desk, where some more encouraging signs have emerged over the past few weeks.
Business has lifted in the manufacturing beef trade into the US, with grinding beef trade lifting 32c/kg or 4.6pc (landed US, Ac/kg CIF) over the past fortnight. Export grinding meat prices are now at their highest level since June last year. Demand out of the key Asian markets of Japan, Korea and China has also lifted, heading into the northern hemisphere summer.
Processor margins
The recent uplift in meat sales is captured in Thomas Elder Markets latest monthly beef processor margin compiled a week ago, showing a slight improvement for processor bottom lines in April.
However the word 'improvement' must be kept in perspective, as the model still suggests average processor losses over the month above $300 per head slaughtered.
TEM' April monthly average margin loss came in at $308, down from a $318 the month before. Since the shocker start to the season where January margins were calculated at a $339 per head loss, the current negative margin has narrowed by 9pc, TEM reported. On an annual basis, Australian processor margins sit at a loss of $323 per head (see graphs below).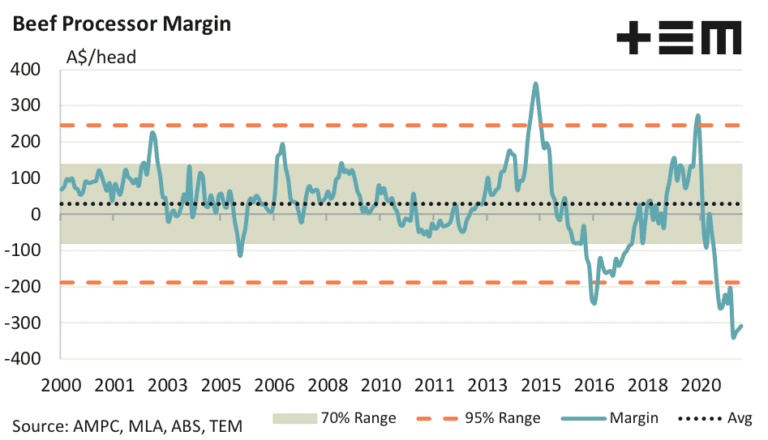 "Assisting beef processors over April were improved beef export prices, particularly in the US where average prices for imported beef improved by 8pc over the month," TEM's Matt Dalgleish said.
Similarly, average co-product prices (hides, edible offal and non-edible offal, including tallow and meatmeal) improved by 5pc and the net result of both of these favourable price movements for processors was to increase their share of revenues.
Wage and utility costs were also reduced by nearly 2pc, helping processors save a few extra coins. The robust domestic cattle prices and ongoing tight supply were the key factors keeping processor bottom lines under pressure, TEM suggested.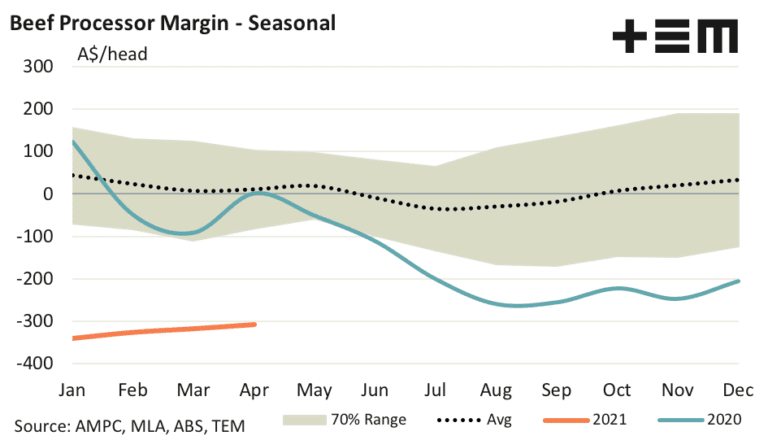 Weekly kills hover below 100,000 head
With only one or two exceptions, eastern states weekly kills continue to operate at below 100,000 head per week, down about 30pc on the same period last year.
NLRS kill data was the week ended Friday was not available by the time this item was posted this afternoon, but will be added here later. The previous two weeks were around 96,000 head or less, but included a public holiday in several states. The immediate past week will provide a much clearer picture of the direction in slaughter numbers, when the data is provided.
Late lodgement of figures by processors has been blamed by NLRS for the sequence of weeks where Eastern states kill data has been released late. NLRS insists that it cannot provide an accurate report for industry unless data entry from processors reaches a certain level.  "NLRS considers the slaughter report extremely critical to the industry, and are continually improving to mitigate a recurrence of delayed reports," it said, somewhat hopefully, last week.