Updated with delayed NLRS weekly kill figures – 12/6/19.
AUSTRALIAN beef production in April reached its highest monthly level since 2015, latest monthly data released by the Australian Bureau of Statistics show.
The prolonged and lingering impact of drought across eastern Australia continues to be reflected in unusually high rates of kill, especially for cows.
Adult cattle slaughtered across Australia during April increased another 0.3pc on an already-high figure the month before, to 695,700 head, and was 7.8pc higher than the corresponding April kill a year earlier, ABS data shows.
Overall beef production volume paralleled that trend, being up 0.1pc on March to 197,300t, and up 3.8pc on the April period last year. The percentage discrepancy between cattle slaughtered, April-to-April, and beef tonnage produced, can be partly explained by lighter carcase weights as the drought has intensified this year.
As the ABS cattle slaughter and meat production statistics released late last week show in this rolling 12-month average graph* (seasonally adjusted), there's been a sharp rise in rate of slaughter since October last year – but equally that rise now looks like it is coming to an end.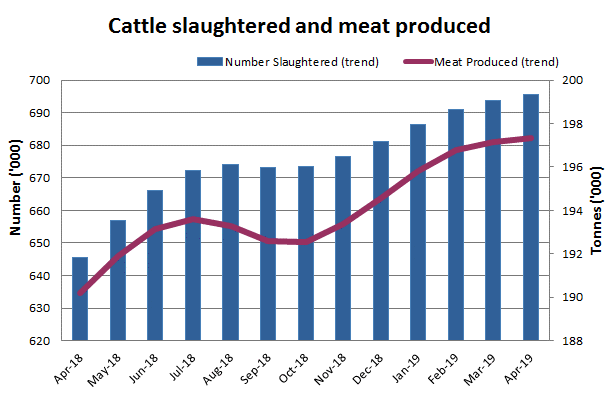 It also captures the sense of disquiet that is emerging in processing circles about slaughter cattle supply prospects in the back half of this year, which look bleak, at best.
While the ABS data contains a considerable lag factor due to data collection, May and early June slaughter rates have remained well above year-earlier rates, when differences in public holidays are taken into account.
During the last four weeks, weekly slaughter averaged 153,000 head per week in the eastern states, up 6pc on the same period in 2018. In NSW and Queensland, an average of 60,000 females were slaughtered per week over this same period – up 16pc on 2018.
At this level, female slaughter in NSW and Queensland remains below the highs of May to June 2015, when an average of 62,000 females were slaughtered per week. But importantly, the current high numbers are being derived from a much smaller, and younger national herd.
Elevated female slaughter points to the continuation of a significant liquidation phase in the national herd and market reports confirm the prevalence of cows at recent sales. When conditions do improve, breeding stock will inevitably find strong price support, as restockers compete for the limited supply.
Last week's eastern states weekly kill results saw total adult cattle slaughter at 147,285 head – a substantial 7pc decline from the four-year high recorded a week earlier. Queensland's kill declined by 11pc to 73,530 head – almost all of it seen in a 20pc reduction in male cattle slaughter. Female kill in Queensland last week remained at close to 56pc.
In NSW, kills eased 5pc last week to 35,456 head, with the female portion representing 54pc. Victoria's kill eased 1pc to 28,061 head; South Australia dropped 14pc to 5221 head; and Tasmania was unchanged at 5017 head.
Big intakes of cows from dry eastern parts of the Northern Territory was a factor in recent supply congestion in Queensland, one processor noted this week, but so to was the arrival of colder weather which had promoted more tidying up of herd numbers before end of financial year.
Large numbers of cows are also being presented for slaughter from western and central Queensland areas that received earlier February/March rain, some showing better condition as a result of pasture growth.
Processors in Queensland and NSW continue to report an abundance of cattle heading into the end of June, with some now looking to place cattle after mid-July.
Direct consignment offers steady
As is often the case when supply gets ahead of demand, cow offers for southern Queensland kills were in an unusually broad range this morning, from 400c through to 420c, while four-tooth steers ranged from 490c to 525c/kg. A northern NSW export processor has offers today for kills week commencing 1 July of 410c/kg on heavier cows, and 480c/kg on four-tooth grass steer.
Prices in that range are still probably 5-10c/kg in equivalent terms in front of northern saleyards rates at present, one northern supply chain source said.
In NSW last week, most direct consignment categories were unchanged, with the exception of cows, which generally lifted 10c/kg. Heavy cows +260kg averaged about 420c/kg, with lighter descriptions +220kg about 400c. MSA yearling steers across NSW processors averaged 516c for lighter descriptions, and 530c/kg at the heavier end.
There was little or no change in Victorian grid prices last week, where heavy cows averaged about 390c and grown heavy steers 527c.
Last week's delayed eastern states kill details will be added to this report when they arrive from NLRS.
* A moving or rolling 12-month average is commonly used with time series data to smooth out short-term fluctuations and highlight longer-term trends or cycles. Essentially, it is a report that uses the running total of the values of the last 12 months of an indicator. Each month, the indicator that is 13 months old is dropped from the total and the new month's indicator value is added. Why use this approach rather than looking at the actual values? While the actual values are important for many reasons, they do not necessarily show trends that can point to growth, flattening or decline.