FORECAST rainfall of 50mm or more across large parts of southern Queensland, eastern NSW and Victoria over the next week could provide additional challenges for already cattle-starved beef processors.
The BOM forecast published here shows the wide extent of the forecast rain, especially across large parts of NSW and Victoria which have already been drenched since mid-winter.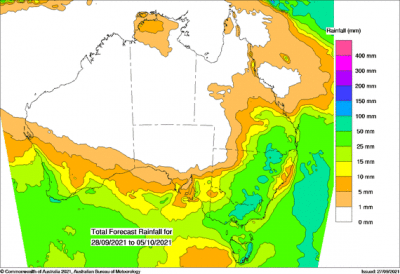 If it eventuates, it could signal an early start to the northern wet season – something that has not been seen for some years. As reported earlier, around two thirds of Queensland remains drought declared, with some regions running out of surface water for stock and light-on for feed.
Any falls of an inch or two heading into October would inevitably slow slaughter cattle supply, a major Queensland processor told Beef Central this morning.
"Even before it arrives, the anticipated rain change is weighing on both vendors and buyers minds this week," he said. "Everyone is looking skywards, and it's fair to say the works cattle buyers' phones are pretty dead this week."
With conditions warming up, any rain now in more northerly regions is well timed, and will produce some growth response in pasture.
No great change in direct consignment offers
After some enormous upwards movements three weeks ago to new record highs, slaughter cattle price grids are mostly unchanged this week in Queensland. The big rises that occurred earlier – up 40-65c/kg in places, saw several major Queensland operators lift rates to 760c/kg for four-tooth heavy steer, with heavy cows 700-730c, depending on location, up from 710c/kg and 655c/kg, respectively. Some of those offers were for October delivery only.
Since then, one large competitor has eased its Queensland offers by 10-20c, taking cows back to 710c and four-tooth steer back to 750c, to try to moderate the big losses involved. Another has heavy cows this week at 700c and PR heavy steers 740c.
Central Queensland processors are mostly 10c behind those top rates, while a large northern NSW export processor has offers for heavy cows this week at 720c (in the sweet-spot 6-22mm fat range), but no public offers on steers.
Some of the specialised categories are now at record levels, with some certified grassfed MSA steers in Queensland now at 800c/kg, and in some cases further south, as high as 830-840c.
Quotes seen this morning out of southern states have best cows around 730c/kg and YP four tooth heavy steer 820c.
In the saleyards channel, prices in southern regions generally remain well above direct consignment offers, as supply remains extremely tight. Heavy grass steers have made 850-860c/kg in some southern centres this week. A small offering of grown steers at Gunnedah this morning making the equivalent of 800-900c/kg dressed weight and lines of better heavy cows, 780c/kg.
Barnawartha this morning saw heavy export cattle making up a larger portion of the offering, with quality described by market reporters as excellent. A full field of buyers were at the rail and demand fluctuated depending on finish. Heavy C3 steers 500 to 600kg sold to stronger demand resulting in a price gain of 23c to average 496c/kg.
Bullock competition increased with domestic buyers joining in. Prices improved 11c to average 468c/kg. In the cow market buyers were prepared to chase the market for well finished lines. Heavy cows sold 10c dearer making from 390-440c/kg live (equivalent of 750-846c/kg dressed). Leaner condition types sold from 340c to 404c/kg.
Slaughter numbers fall
There was a sizeable fall in slaughter numbers across Australia last week, with numbers continuing to register either side of a band around 100,000 head.
NLRS reported a total national adult cattle kill of 97,946, down 6pc or 6000 head from the previous week.
Queensland last week processed 53,353, down about 1500 on the previous week. Numbers were similar to this week last year, but still more than 25,000 head less than in 2019, when the current week's kill reached almost 80,000 head.
NSW last week recorded a kill of 26,257, down 5.4pc on the week before. Victoria slipped to its lowest kill since early January, at 10,054 head, continuing a six-month decline in processing activity, while South Australia logged 2503 head, , a sharp 25pc decline on the previous week. Tasmania processed 2783 head, down 11pc, while Western Australia was steady at just below 3000 head.
Next week's national kill will inevitably be impacted by Queen's Birthday public holiday being celebrated in Queensland, being observed at most processing sites across the state. WA celebrated its holiday this week.
Female proportion of slaughter continues at historically low levels, standing at just 39.1pc across Australia last week – much as it has for the past month. The tipping point between herd contraction and expansion is 47pc, signifying that herd rebuild is still well and truly in progress.
Some state female figures are much lower, with Queensland last week recording a female kill of just 30.4pc, among the lowest numbers this year. Females in NSW last week accounted for a significantly higher 48.9pc of the total kill.