EXPORT processors notched up another near-record high loss on slaughter cattle during February, recent analysis shows.
According to preliminary data in Thomas Elder Markets' February processor margin calculation, a 2pc lift in North American beef export prices last month was completely offset by higher domestic cattle input prices, to see the processor margin for February calculated at $339/head.
This would have been a record, except for an adjustment in January figures, TEM pointed out. Some of the data inputs to TEM beef processor model can be delayed in reporting, so there are sometimes revisions made* to previous margin updates. This has been the case for January, with softer North Asian beef export prices pushing the processor margin further into negative territory, to an adjusted $340/head.
The original update suggested a $310/head loss on January slaughter cattle, but this has now been pushed even further into the red, on the back of export price updates coming in 4pc softer than previously reported.
Higher co-product prices received assisted processors somewhat, TEM said, but the 5pc gain wasn't enough to completely offset lower export prices. January's figure of $340 was the largest monthly loss on record for beef processor margin data going back to the early 2000s.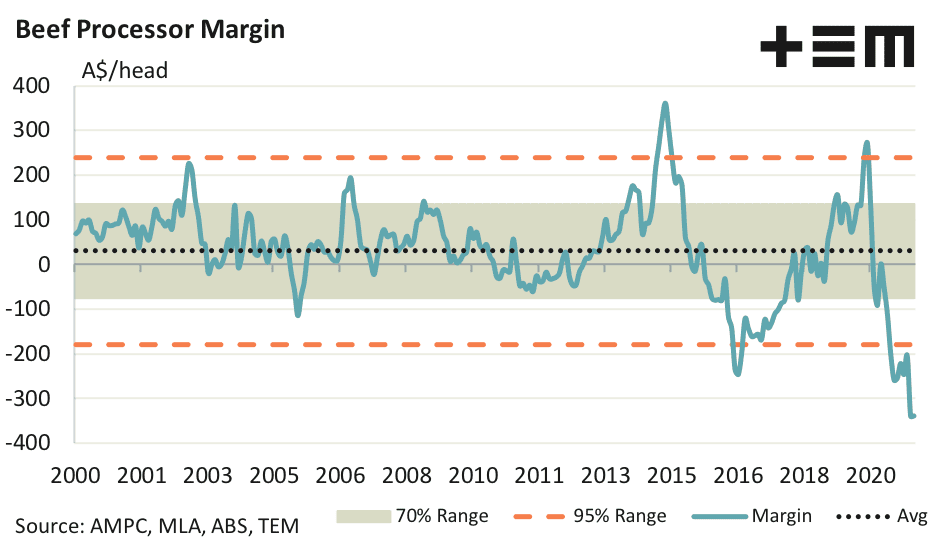 Grid prices steady
After the previous couple of weeks where Queensland processors lowered their offers on slaughter cattle, grids have remained steady north of the NSW border this past week.
Competitive offers before discounts from Queensland processors this morning included 650-670c/kg on four-tooth heavy steers, and heavy cows 580-590c/kg. Grainfed spot 100-day cattle are 650-675c/kg this week on 0-2 tooth cattle, some offers back 10c on earlier rates.
Dry weather across substantial parts of Queensland, together with signs that cattle are starting to 'move' in more extensive cattle areas as first-round musters get underway, are pushing a few more cattle towards processors in Queensland, easing the slaughter supply challenge a little heading into mid-March.
One large processor said his company was probably in its best supply position in around 12 months, having around two weeks' worth of forward bookings at some company sites.
Easter is often a decision-making point for Queensland producers facing a limited body of feed heading into winter, and one company said its plant was already reasonably well booked through to early April.
"It's unusual, we haven't seen it this way (in terms of advance bookings) since before the rain arrived this time last year," he said.
Some producers may also have concluded that the best of the prices in the current cycle may now be behind us, and have now decided its best to move now, before markets deteriorate further.
As of last week, all of Queensland's significant processing sites were back at work, with JBS Townsville starting its chain for 2021 on Monday 1 March. Teys Lakes Creek at Rockhampton started operations the week prior, while NH Foods Borthwicks at Mackay recommenced operations a fortnight ago, after a two-week maintenance break.
The adjustments in grid pricing in early March mean cows in Queensland have now retracted 40c/kg in a series of corrections since early February, and steers are back by 40c/kg from their earlier high-point at 690c.
Southern states grid offers have remained firm this week, with processor offers in southern NSW and eastern parts of South Australia this morning showing four-tooth heavy steers 675c/kg, and heavy cows 610c.  Both states are now significantly higher than Queensland.
The north/south transition happened about three weeks ago.
Supply chain sources suggested three factors were in play in the fact that southern states grids are now ahead of Queensland, typically by 5-20c/kg:
As described above, worsening seasonal conditions and declining prospects of a late wet across some parts of Queensland mean the supply challenge in the north is now less acute than it is in southern Australia, allowing northern processors to ease offers while maintaining throughput
Extremely high young cattle and feeder cattle prices have lured some traditional southern 'fatteners' into selling early, leaving an even greater void that southern processors are now trying to fill
The rise seen in southern grid offers over the past month has happened at the same time as Queensland grids have fallen, causing an intersection to occur.
The NLRS eastern states weekly slaughter report was not issued by the time this item was posted. Results will be added to this item when they arrive.
* The Thomas Elder Markets processor margin model can be adjusted retrospectively as new input data comes to light. The February 2021 figure includes co-product pricing and some export pricing that is yet to be updated fully for the month, so this figure is likely to be adjusted slightly in subsequent releases.