EXTREME heat conditions across large parts of eastern and southern Australia since the weekend have hampered slaughter cattle flows, in an already incredibly tight supply situation.
Summer, which officially started today, has opened with a vengeance, with temperature records broken in a number of centres across the eastern states since Saturday. Andamooka and Marree, in South Australia's  remote northeast, were the hottest towns on earth on Saturday, recording a blistering 48C and 47.5C respectively, while Queensland's Birdsville hit 46.4C and Fowlers Gap in NSW was 46.2C. Monday maximums included Ballera, QLD (47C), Thargomindah Qld (46.2C) and Moree NSW (44.3C).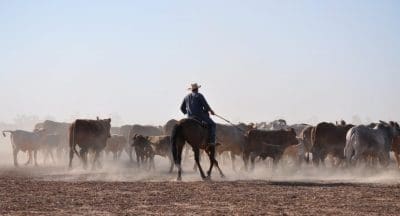 The heatwave has gradually drifted east since the weekend, and is expected to pass by Thursday, but it impacted cattle flows for a number of days. The Bureau of Meteorology has just finished crunching last month's numbers and confirmed it was Australia's hottest November on record for maximum, minimum and mean temperatures.
Several processors and transport operators have reported cancellations on some direct consignment cattle bookings early this week, because conditions were too hot to muster and ship stock.
Saleyards have also been badly affected early this week, with Gunnedah sale this morning seeing numbers slashed in half to 1290 head, due to extreme heat. Numbers also dropped sharply at Warwick and Naracoorte sales this morning, while there was a small rise at Wodonga.
Direct consignment rates continue to soften
There were further falls of 10c/kg in some Queensland direct consignment grid offers early this week, but those changes were more to align with competitors' quotes, rather than representing a further decline.
Most southern and Central Queensland slaughter grids are now 25-35c/kg below where they sat a fortnight ago, in response to an unexpected flow of cattle which started to move due to the hot, dry conditions.
As is often the case, there was a mini-surge to place cattle last week, as producers sensed that the market is now on the turn, and unlikely to reach prior record levels again any time soon. Some Queensland grids shifted downwards twice in seven days last week, typically dropping 25c on four-tooth Jap ox and heavy cows, from early November all-time record highs. Some branded-beef programs (e.g. certified grassfed) are back as much as 40c/kg on rates seen just a fortnight ago, while grainfed cattle spot-market are typically back 20-25c on mid-November rates.
Best offers on heavy cows in southern Queensland today are 590c, with grassfed heavy steer four-tooth at 660c (HGP-free).
Several Queensland processors say they have now virtually completed their bookings for the 2020 year, with last kills at many export plants taking place on Thursday, December 17. One large southern Queensland shed's livestock manager said his business was looking for only a 'few hundred' more each day, before the Christmas break starts.
Last week's eastern states kill reached 109,913 head, a sharp rise of 6pc on the previous very low week. Most of it was achieved in NSW (+24pc on the previous week to 29,619 head), Victoria (+9pc to 22,104 head) and South Australia (+23pc to 3893 head). Queensland's kill eased another 1pc to 52,292 head, while Tasmania slumped 47pc to 2005.
The challenges driven by high temperatures this week may see further kill reductions in this week's seven day kill, to be reported by NLRS next Tuesday.