WITH public holidays in Queensland and NSW yesterday, and families returning kids to boarding school after their break on the long weekend, saleyards slaughter cattle numbers appear to be particularly light-on this week.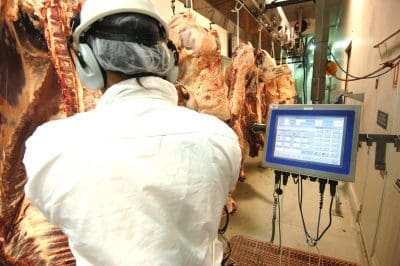 Warwick sale this morning was reported a 'slim pickings' and there was barely 3500 head on offer at Roma's Tuesday store sale.
Gunnedah recorded a small increase this morning, but still only yarded 1300 head. Most meatworks cattle sold to a cheaper trend at Gunnedah, with heavier grown steers described as a shade cheaper, while age and increased weights played a role. Grown heifers to feed and process generally sold to cheaper trends, breed and age being a factor. Those to process attracting reduced competition. That was also the case in cheaper trends of as much as 12c/kg in the cow market.
BOM's weekend rainfall forecast across large parts of eastern and southern Australia delivered isolated pockets of heavy falls, but most areas were limited to only 20mm or less. This has had no appreciable impact on slaughter cattle flows this week, processors said this morning.
Hot, dry winds that have followed have since removed most of the moisture benefit. As reported earlier, around two thirds of Queensland remains drought declared, with some regions running out of surface water for stock and light-on for feed.
No great change in direct consignment offers
After some hefty upwards movements in Queensland direct consignment slaughter cattle rates a month ago, grids are mostly unchanged again this week in Queensland.
Current rates for October delivery kills in the state's southeast are 740-760c/kg for four-tooth heavy steer, with heavy cows 700-730c, depending on location.
Central Queensland processors are mostly 10c behind those top rates, while a large northern NSW export processor has offers for heavy cows this week at 720c (in the sweet-spot 6-22mm fat range), but no public offers on steers.
Quotes seen this morning out of southern states have best cows around 730c/kg and YP four tooth heavy steer 820c.
The rise in rates in Queensland has largely seen-off southern processors who had been travelling north to secure relatively cheaper stock during early stages of September. Some processors said there were a few more early-season cattle evident in the market in southern NSW and Victoria this week, but anticipated that any 'flush' of slaughter ready cattle this spring would likely be "shallow, and short-lived."
Slaughter numbers
No national slaughter data for last week is available yet from NLRS, due to yesterday's public holidays in two states. Results will be added to this item later, when they arrive.
The current week's kills will inevitably be impacted by the holiday break, in figures released on Tuesday next week.