Priceless rain across large parts of eastern and northern Australia over the past week has created a new dynamic in the red meat industry's slaughter cattle supply/demand equation, but it is still too early to determine how long-lasting and profound the change is.
Large parts of Queensland, the NT and parts of northern NSW have received at least 50mm in the past week, and in places considerably higher falls north of 100mm (see BOM map).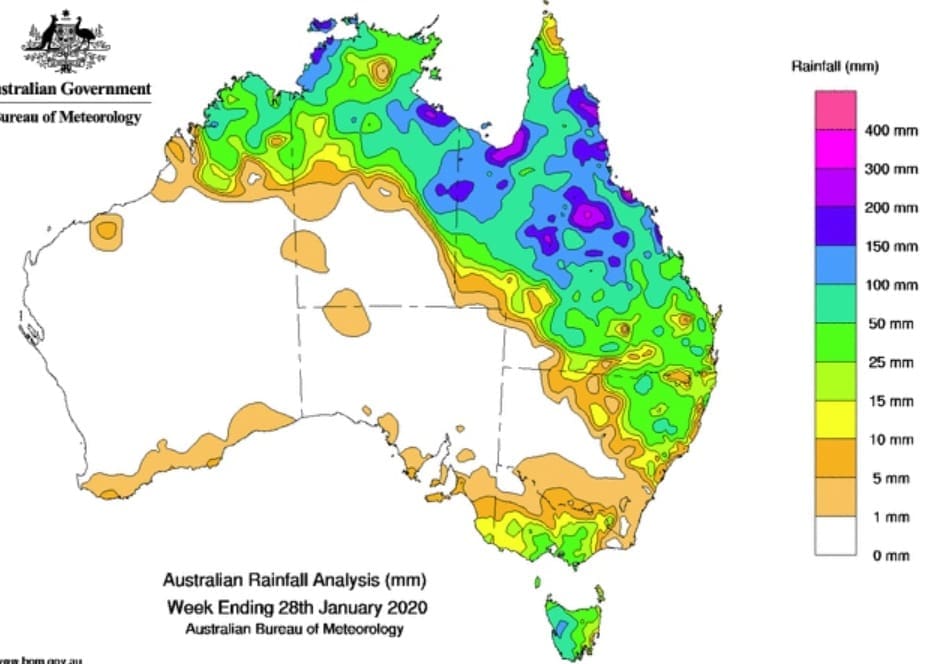 At worst, it represents a short-term disruption to processing operations in some areas and some desperately needed grass-growing rain in many grazing regions to relieve pressure after 12-18 months of severe drought. A number of processors are throwing out 'rain money' this week to fill vacant kill slots.
At best, it's the start of a new supply/price cycle which could see markets for slaughter cattle of all types rocket to new highs in coming months, on the back of drought-forced herd reductions pushing the national beef herd to a 30-year low somewhere in the 24-25 million head range.
Much will depend on follow-up rain between now and April, but some grazing areas, at least, are now more or less guaranteed of a season through to spring/summer later this year.
Damage to roads and rail infrastructure this week, together with waterlogged paddocks and impassable station roads will inevitably impact processing operations at some Queensland beef plants this week, Beef Central was told.
Both Teys Central Queensland plants at Biloela and Lakes Creek were due to operate yesterday, but closed their doors due to supply issues. The company is hoping for four days' kill this week, at best. In Townsville, JBS is facing logistics issues after 200-300mm of rain in some extreme areas. Killing this week will be a day-by-day proposition, the company said.
Further south, plants in southeast Queensland are less affected, and expect to complete kills as normal this week, based on prior bookings. Forward space bookings have dissolved, dramatically, however, and most processors in the region now appear to be light-on for slaughter stock heading into February.
Processor grids in Queensland have in most cases lifted sharply since Thursday last week. As a general rule, those companies that have changed their grids are up 20-25c/kg on earlier rates, and in places 30c/kg. The only exception is JBS, which is still considering its post-rain position, and has not offered quotes since Friday.
Active quotes seen this morning in southern and central Queensland included 580c/kg for four-tooth heavy steer, and cows anywhere from 480c to 510c/kg. Saleyards activity this morning (see more details below) had best cows at Warwick making 287c/kg – that's the equivalent of 550c/kg on the ground at 52pc dressing percentage.
That would appear to be short-term panic buying by processors to fill some big gaps in this week's kill rosters.
Post-rain prices have not yet hit their high-points seen in late 2019 (550c for cows and 600c for four-tooth steer) but those levels are now starting to look within sight.
Among premium beef categories, EU steers on Queensland grids this week are 610c and MSA grass steer 595c. Grainfed 100-day spot price this week is 600c for HGP-treated and 645c for HGP-free.
Over-the-hooks quotes for the week ended Friday in NSW had grown steers lifting 5-6c/kg, selling to 515c, and cows 15-20c higher. In Victoria, grown steers were 12-15c higher and cows quoted 23c/kg above the week before, at 450c.
Feeders jump dramatically
Among cattle markets most immediately impacted by the rain, feeder steers and heifers have produced some sharp rises over the past ten days. Flatback heavy feeders have lifted to 320-330c/kg in Queensland paddock sales in the past week, rising from 280-300c only a few weeks ago.
For anybody that has had rain, the supply of those lighter 380kg-type backgrounders that lotfeeders were relying on heavily during 2019 will likely disappear, as producers elect to hold cattle to add some weight on grass. That could put a real hole in feeder supply over the next 2-3 months, market observers said, until those cattle are presented to the market in perhaps April-May at much heavier weights.
Likewise, steers and heifers at lighter weights around 320-350kg targeted at the Woolworths/Coles type domestic trade will likely also enter a period of very short supply as a result of rain. In the case of heifers, the looming restocker market is likely to make those descriptions prohibitive for domestic feeding.
Saleyards jump in value
There was an immediate response in physical cattle sales held this morning, following the long-weekend rain.
At Gunnedah, a yarding of 1700 head saw restockers active through the young cattle. Lightweight steers experienced significant price improvement. Medium and heavyweight yearling steers to feed saw a dearer trend of 13-15c/kg. There were strong gains for yearling heifers in all weight ranges. Heavy grown steers to feed and to process saw a dearer trend of as much as 19c/kg. An improved quality penning of heavy heifers were as much as 26c/kg dearer in places. Strong demand for light and mediumweight cows resulted in a much dearer market trend with all sectors competing. Processor demand for well finished heavyweights increased with the market trend up to 7c/kg dearer.
At NVLX Wodonga this morning, a 1550 head yarding saw demand for vealers strengthened due to increased demand from lotfeeders and restockers. The pick of the vealers sold from 280-320c/kg.
Well-finished trade weight steers sold from 10-28c dearer, averaging 307c/kg. Trade weight heifer prices lifted 13c, with grass-finished heifers in greater numbers. The better shaped heifers made from 270c to 305c/kg. Feeder steers and heifers were keenly sought by a larger group of buyers, resulting in significantly dearer trends for both classes. Steers 400-500kg averaged 292c, while the heifer portion topped at 290c to average 277c/kg.
The heavy export market sold to stronger demand from the both the south and the north. Heavy C3 steers gained 7c to average 294c. C4 bullocks sold 10c dearer which was due in part to quality and competition. Bullocks sold from 280-310c. Crossbred steers made from 250c to 270c/kg.
At Roma store sale this morning (full report tomorrow), a combination of the rain, and reduced supply totalling 2260 head resulted in prices improving across most classes.
Lightweight yearling steers to restockers gained over 40c/kg. Mediumweight yearling steers to feed for the domestic market averaged 29c dearer, and heavyweight yearling steers to feed lifted in price by 13c/kg. Lightweight yearling heifers to restockers were in demand to average 19c/kg better, while mediumweight yearling heifers to feed averaged 10c dearer. A small sample of heavy yearling heifers to feed lifted in price by 40c/kg. All classes of cows sold to a dearer trend with improvements of 3-12c, and up to 19c/kg on good heavy cows.