SLAUGHTER numbers across eastern Australia fell to 128,100 head last week – the smallest full-week throughput seen since April this year – in the wake of late October rain.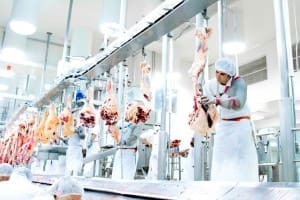 But the pattern did not last long, with processors across Queensland and northern NSW reporting renewed strong sale inquiry from cattle suppliers this week, following some very hot conditions in recent days.
One large processor in the state's southeast said his bookings were in the best position they had been in for at least the past month.
Several processors this morning were talking about the prospect of lifting shift throughput numbers in coming days and weeks, as a result of the surge in offers for last season slaughter cattle.
The earlier 20-25c/kg grid price rise remains untouched for the timebeing, perhaps tempting some suppliers to pick the current round of offers as being the top of the pyramid, in the current price cycle.
And with just six operating weeks left before Christmas meatworks closures are due to start around December 18-19, cattle suppliers appear happy to unload some stock before heatwave conditions really set in.
There's been no significant change to processor grids in Queensland and northern NSW this week, after a sharp 20-25c/kg rise seen in the past few days of October. Direct consignment offers seen this morning for Southeast Queensland kills include 555c for four-tooth grassfed ox, and 480c/kg for the best of the heavy cows.
Reflecting the stronger impact of late October rain further north, Central Queensland plants continue to offer rates on-par with processors in the state's southeast, when they are normally 10c/kg behind the southern parts of the state. In fact reports have been heard this week of cattle moving in the opposite direction to normal supply flows – that is, shifting from southern parts of the state into beef plants at Rockhampton and Biloela.
Reflecting the earlier rainfall influence, Queensland's seven-day kill to Friday reached 58,529 head, down 9pc on the week before. In contrast the NSW kill rose 9pc to 33,567 head, while Victoria also lifted 2pc to 25,439 head. South Australia was 3pc higher at 6110 head, while Tasmania dropped 10pc to 4504 head.