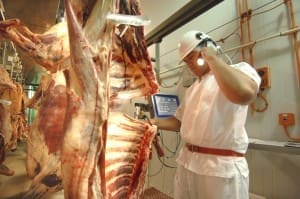 ANOTHER record Eastern States weekly beef kill was set last week as producers struggle to offload surplus cattle into an early winter slaughter market already bursting at the seams with direct consignment supply.
The National Livestock Reporting Service recorded a seven-day kill to Saturday of 169,345 head, a further 211 head on top of the previous record tally set back in the week ending March 7, not long before the rain relief was seen.
The sheer size of the kill last week comes as no great surprise, given some of the developments discussed in last week's regular kill report (click here to view), where very large saleyards offerings were being seen across Eastern Australia.
Queensland's kill last week at 86,135 head was down 2 percent, but that was off the back of an all-time record state kill the week previous, above 87,800 head.
New South Wales was again pushing towards recorded territory last week at 38,697 head, after topping 39,000 head the week before.
Victoria's large kills also persisted, accounting for 30,708 head last week, up 3pc from the previous cycle, while South Australia, at 8740 head, was +20pc after a disrupted kill the week before. Tasmania also recorded a large seasonal kill of 5065 head, plus 3pc on the previous week.
All Queensland plants are now working at operating capacity, with double shifts and Saturday boning shifts happening wherever they can be accommodated, in order to try to match supply circumstances.
The supply situation which has emerged during May reflects the onset of winter conditions, and the lack of confidence producers across Eastern Australia have in the medium-term seasonal outlook, despite earlier rain.
"We've seen seasons not unlike this one before, but I haven't seen the determination of producers to offload numbers this early, and this severely, before," one large veteran Queensland processor said yesterday.
Processors say they have been taken by surprise by the urgency in the current turnoff cycle, several saying the numbers defied belief, given what's already happened over the past 15 months.
Slaughter numbers now look unlikely to ease until closer to the end of financial year, several processors said, with solid kill space bookings now held until well into June or even into July.
Some Southeast Queensland grids have been adjusted downwards again this week, under the weight of the wall of cattle being presented, both through direct consignment and saleyards.
Grid prices have now declined 15-20c/kg in many examples over the past four weeks.
One large multi-site export processor is currently booked solid through the end of June, quoting only for kills from July, week one. They are offering 285c/kg for best cow, ands 325c/kg on four-tooth grassfed export steer for early July kill.
Another has reduced spot grids another 5c/kg across the board this week. Best quotes seen this morning for direct consignment SEQ cattle included four-tooth grassfed export steer 330c, milk and two-tooth steer 335c and best cows, 300c.
Are the big pastoral companies 'queue-jumping?'
In the rush to offload cattle into an already congested Queensland slaughter cattle marketplace, are the big pastoral companies getting preferential deals in terms of kill space access from processors?
It's a question that has arisen in several industry circles this past week. It's backgrounded by the fact that processors 'like doing business' with the major pastoral companies, who can offer big, consistent runs of quality cattle which help simplify the daily kill roster.
In essence, some smaller producers fear they are being unfairly 'queue-jumped' by the corporate operators, because of their bargaining power with major processors, under the current difficult circumstances.
Beef Central asked major processors about the prospect of whether they are 'currying favour' with the big players yesterday. The all denied it, stridently.
One said it had not booked any space for corporates during the current rush, but conceded that it was possible, if a company sold a lot of cattle through the course of a year to one processor, that they might 'make things happen' to try to accommodate their requirements.
"But remember that selling large runs of cows off the Barkly or the Gulf, for example, is a routine development at this time of the year, as part of their normal turnoff. There's nothing unusual or unfair about that – it's just that it may be occurring at an unfortunate time this year, when others are desperately looking for kill space," one processor said.
Another large processor confirmed that it booked some very large lines of slaughter cattle from large pastoral companies, including an entire trainload for one company out of the west (close to 1000 head in a single consignment), but denied that there was any preference being shown in allocation of kill space.
"They have been booked for some time," he said.
"Another rang late last week with a problem, meaning they had another 600 bullocks to find a home for urgently. Instead of disrupting our existing kill plans, we sent them south to one of our other plants, and did a Saturday kill to accommodate them," he said.
"There's been no pushing-in, in our kills, at least. None," he said.
Another Queensland processor said forecasts had been sought from the large corporates well in advance of the current cycle, around which they had built their kills, which was normal for this time of year. In one case his company had rejected an unexpected kill request from a corporate, for a 'substantial number,' due to lack of space.
Processor attendance at some physical saleyards has been patchy in the past week, because of the sheer depth of direct consignment bookings already on their books.
Yesterday's Eastern Young Cattle Indicator continued to fall, reaching 331.25c, back 24c on where it sat a fortnight ago.