WESTERN Australia's biggest meat processor, V&V Walsh, has entered a $1 billion joint venture with Chinese interests that potentially could boost the company's operations by 500,000 lambs and 30,000 cattle a year.
V & V Walsh directors Peter and Greg Walsh plan to export boxed beef and sheepmeat to Inner Mongolia under the new agreement with the Inner Mongolian government and the Heilongjiang Grand Farm Group. Grand Farm is said to be seeking delivery of up to 50 sea containers of lamb and beef a day, a figure which sounds fanciful, but if true, would be well beyond the capacity of V&V Walsh, or any individual Australian exporter, to deliver.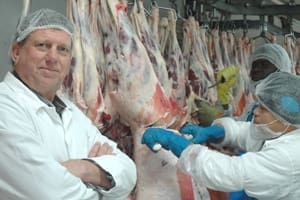 V&V Walsh principal, Peter Walsh. Image: Bunbury Mail.
"They will take whatever we can give them," Peter Walsh told The Australian newspaper yesterday.
The Walsh brothers visited China about 20 years ago to sell sheepskins and realised it was a future important market for the family's meat business.
On Sunday, Western Australia's agriculture Minister Ken Baston said the three-way deal would significantly increase WA's meat and fodder exports to China and inject hundreds of millions of dollars into the local economy.
"With an estimated investment of $1 billion over five years, the project will involve V & V Walsh, as well as China's largest red meat importer from Australia and NZ, Grand Farm, and the Inner Mongolian government," Mr Baston said.
There will be investments in both jurisdictions — $200m of Chinese investment into WA to increase lamb and beef production through the Bunbury plant, and potentially, other points along the supply chain; and $800m in Inner Mongolia, where there are plans to develop new processing facilities and an expansive network of feeding systems.
Mr Baston told The Australian that he believed there was strong potential for growth of beef and sheep meat into China because each citizen consumes an average 4.9kg of beef a year and 2.8kg of sheepmeat. Australians consume an average 32.5kg of beef and 10kg of sheepmeat.
"For every kilogram of extra lamb consumed in China, an extra 65 million lambs would be required. Fr every kilogram of extra beef consumed in China, an extra 6.5 million cattle would be required. WA has the very significant opportunity to grow exports," Mr Baston said.
V & V Walsh, based at Bunbury, is in the final stages of gaining regulatory approval to export meat to China, and Chinese officials will soon tour the facilities to ensure they are satisfied, The Australian said.
Peter Walsh said the joint venture grew out of a 15-year friendship between his family and Grand Farm president and China's Beef and Lamb Association chairman, Chen Xibin.
Sheepmeat exports from WA to China rose 77 percent by weight from 2012 to 2013, reaching $47 million in value.
It's not the first time China's Grand Farm has entered into joint ventures for red meat supply in Australasia. Last year the company struck a joint venture between NZ meat processor/exporter Alliance, which provided Alliance with specific knowledge about what Chinese consumers wanted, while helping Grand Farm to demonstrate the safety of its products to consumers. The relationship was discussed at last year's NT Cattlemens Association annual conference, click here to view Beef Central's report.
About V&V Walsh:
V&V Walsh's modern abattoir in Bunbury, WA can slaughter 3500 lamb and mutton per day, about half of which is boned and packed on-site. The plant also has the capacity to slaughter 400 head of cattle per day, three-quarters of which can be boned on-site.
The business was established by Vern Walsh, a retail butcher and his wife Jean in 1957. Their sons, Peter & Greg, now operate the business.
V&V Walsh is a major meat supplier to Woolworths' WA retail outlets and specialty food stores. It also processes a premium meat range called Amelia Park, and works alongside distributors, Trim & Tasty Meats, to distribute the range throughout Australia. The company's skins and hides, and other by-products including Organic Blood & Bone fertilisers are distributed throughout the world.
The company already has an office in Beijing, principally for hides and skins trade.
All beef and lamb slaughtered at V&V Walsh is carried out by accredited Muslim slaughtermen, using Halal practises.