THE Federal Government needed to reaffirm its commitment to an agricultural visa – one which allows overseas workers onto Australian farms and into agricultural processing plants such as abattoirs – according to the Australian Meat Industry Council.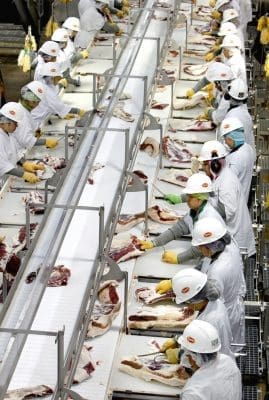 The council said an estimated shortage of 3000 employees in processing was a significant and pressing concern for the Australian red meat industry.
AMIC chief executive Patrick Hutchinson said a lack of progress on greater access to visa workers was hurting the industry.
"Sourcing appropriate labour is a major obstacle to further investment in meat processing in Australia," Mr Hutchinson said.
"This is an industry that employs almost 130,000 people directly and indirectly, and in regional areas is often the biggest employer in town," he said. "But accessing staff can be really tough and if processors cannot get the people they need, they can't operate at full capacity. A shortage of processing employees across Australia is holding back regional development and the support of Australia's rural sector."
The Australian agribusiness sector was not just made up of farms and farmers, but was an entire supply chain that employs thousands of people and adds billions of dollars to the economy, Mr Hutchinson said.
"We need to ensure the whole supply chain is thriving," he said.
"There are a number of serious challenges to our sector which can only be solved with government support and that starts with genuine recognition of the critical role of the supply chain in the agri industry. We all want farms to thrive, but the reality is that farms do better when the supply chain does better."
Fletcher International labour programs
Red meat processors like Fletcher International Exports in Dubbo have implemented extensive labour programs. They recruit local workers first but the region in which they operate has an unemployment rate of less than 3.5pc, so its a constant challenge. Like most plants, Fletchers requires the potential applicants to pass a pre-employment medical, which includes a drug and alcohol test, so the number of applicants is reduced.
The company advertises regularly for potential new local workers and works with local employment services. Most skilled positions are filled with local workers, but it is the unskilled positions where there is the biggest need and the biggest turnover, the company said.
"On behalf of our members we are calling on government to commit to confirming plans for agricultural visas soon," Mr Hutchinson said.
AMIC is the peak council representing meat retailers, processors and smallgoods manufacturers and is the only industry association representing the post-farmgate Australian meat industry.
Source: AMIC