AUSTRALIAN agtech company MEQ Probe has launched its MEQ Camera technology following its AusMeat accreditation for measurement of marbling scores 0-6 and 7-9,  and fat colour 0-8 in beef carcases.
The Australian-built, AI-enabled technology is the first to use video to grade the quality of meat. Previous camera-based objective measurement technologies have used still images only.
The advantage in using video is that by capturing images from multiple directions (see video below), it reduces the impact of light reflection on the cut surface, which can impact the accuracy of the assessment.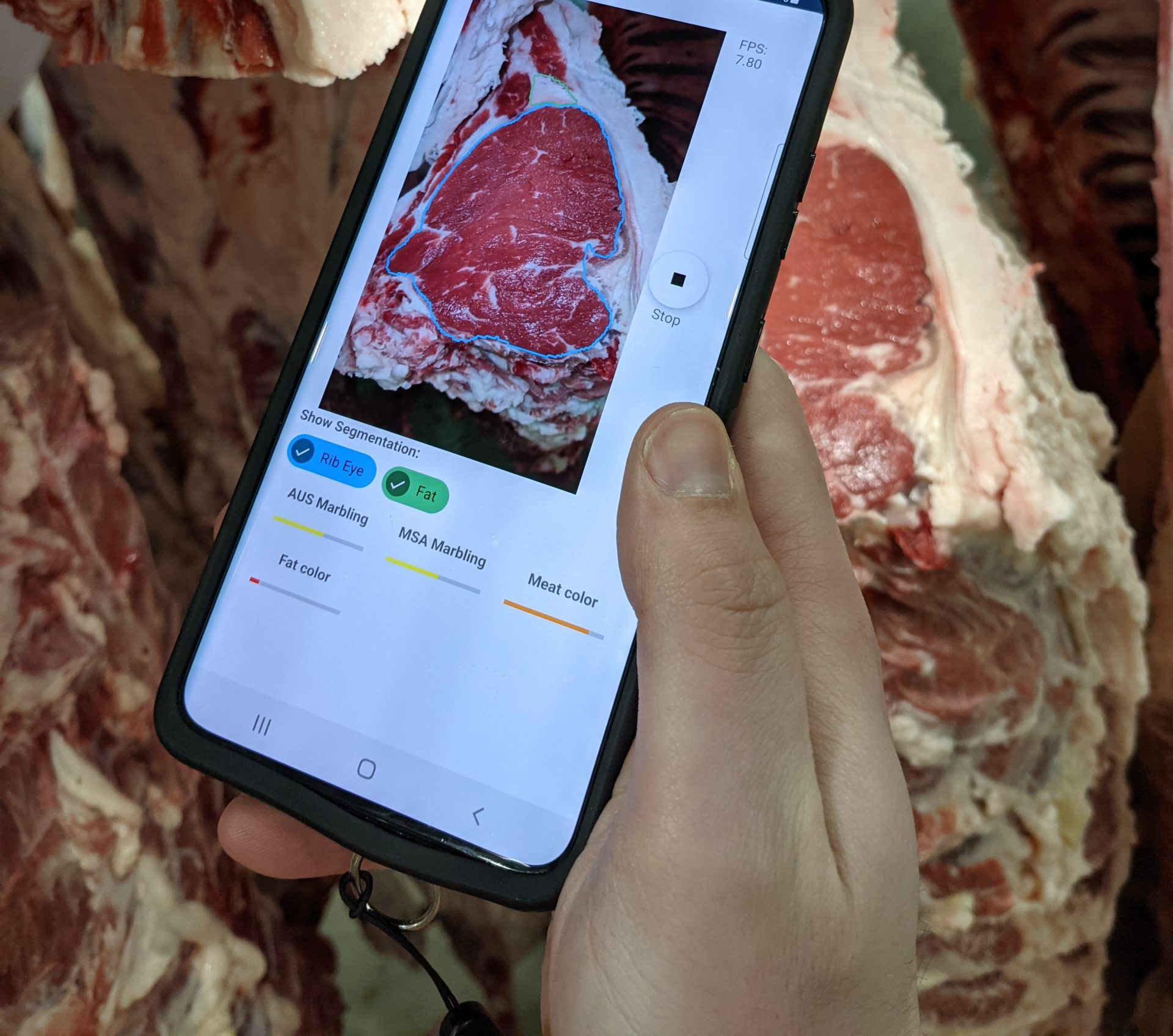 The new MEQ Camera consists of a smartphone application that uses a phone's own camera to segment muscle on a carcase grading site in real-time. It utilises AI to give the solution stronger integrity as it grades from data-rich video, instead of just from still images, as is the case with other technologies on the market.
The MEQ Camera also received conditional accreditation from AusMeat for meat colour (1C-7) and Eye Muscle Area traits.
While the company's fully-accredited MEQ Probes for lamb and beef provide hot carcase measurements (meaning no chilling of meat is needed) the new Camera provides cold carcase yield and eating quality measurements.
Little specialist training is needed to operate the technology and the immediacy of the results mean that processors can share insights quickly through the supply chain, MEQ said in a statement.
"It also allows for far greater consistency which ensures the industry can deliver on its brand promises with confidence," it said.
Trials at ACC, Greenhams
Several Australian beef processors have already been trailing the technology at their processing plants, with HW Greenhams using the camera for several months, and MEQ's development partner, Australian Country Choice, testing it for more than a year at the company's plant in Brisbane.
MEQ Probe chief executive Remo Carbone said harnessing the power of AI and machine learning had always been a priority for the company when building technologies, and the MEQ Camera was another great example of how this could be brought to life.
"While development of the camera began less than two years ago, the addition of it to our suite of advanced grading tools really adds momentum. Coupled with our probes, and MEQ LIVE, our technology provides the entire red meat supply chain with unparalleled insights into eating quality, down to the level of individual animal.
"We look forward to pushing the boundaries of what might be possible in the space even further," Mr Carbone said.
A video of the MEQ Camera in action can be viewed here, with the technology being used to grade a rib-eye live. The numbers at the bottom show the grade given to the cut by a manual grader (left), with the Camera's live grade next to it (right).
Source: MEQ