SMALL Victorian meat processors will be exempted from workforce cuts being enforced as part of Stage Four COVID-19 restrictions coming into force across the state after midnight Friday.
Victorian Premier Daniel Andrews said today that the two third staff level rule will not apply to red meat processors and boning rooms with fewer than 25 employees.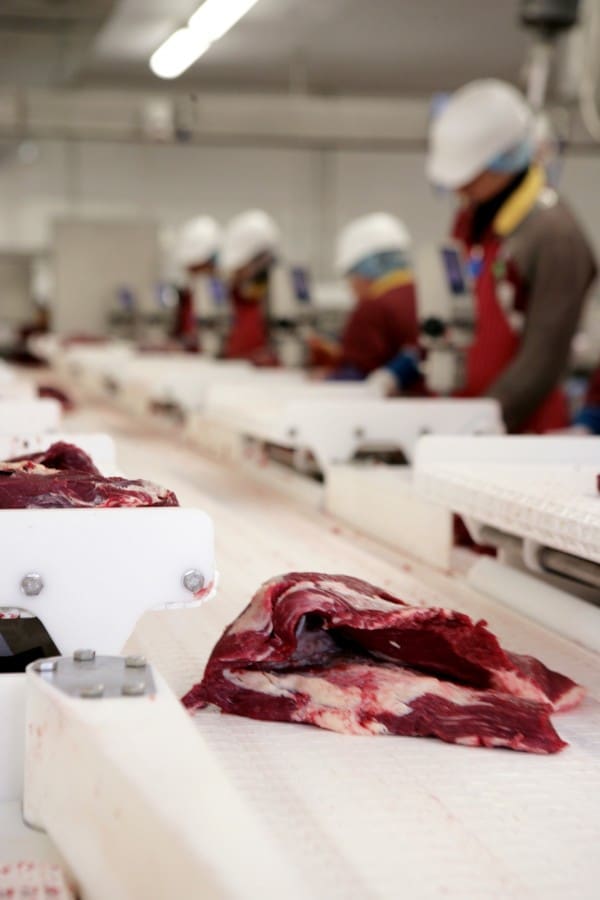 "I can confirm that we will land final arrangements by midnight tomorrow night that will see red meat – beef, lamb and indeed, pork – will go down to 66 percent, so two thirds of their operation, based on their operations last month or based on their staff numbers over a three-month continuous period at some other time in the year," the Premier said today.
"So whilst they are already down in terms of their total amount of work, they will be going down further to that two-thirds level."
An Agriculture Victoria spokesperson said processors could spread the reduced workforce over more shifts to meet production targets, as long as the restrictions applicable to them were being observed and they're observing all relevant licensing/permit requirements. Processors should check with their local government on restrictions around noise and hours of operations. Details on the business operating reductions can be found here.
When asked at his daily COVID-19 update if workers in the affected businesses would be working longer hours, Mr Andrews said the two thirds rule referred to staffing rather than output.
"We will also make sure that we are trying to thin out shifts as much as we can – that's about distance, it's about less people onsite.
"I fully acknowledge and understand how difficult this will be, but we can't have a situation where you were doing four shifts at 25pc each, that would basically be the same number as you would be when you were at full tilt," he said.
"We have to have less people going to work, that's very painful, that's very difficult, but it's a little bit like high risk and low risk – ultimately there is an aggregate risk."
The Premier said meat processing has been "very high risk", but he thanked the sector for its engagement with the Department of Health and Human Services public health team.
"We've seen a number of outbreaks, we've seen some very real challenges in that industry."
Due to the lifecycle of poultry, Mr Andrews said the workforce cuts in that sector will be by agreement down to an 80pc level, to avoid hundreds of birds being destroyed but not processed, leading to significant shortages of product.
"All of these measures are about driving down the number of workers to the lowest number we can practically get to, whilst at the same time not delivering critical shortages of product.
"Therefore there are balance points to be found and we are confident that we have been able to do that."
Mr Andrews said very strict COVID Safe plans will also apply to the industries cutting workforces, encompassing testing, temperature checking and personal protective equipment, and onsite compliance officers to ensure rules are followed.
Before announcing the clarifications on industry changes, Mr Andrews left the door open for further changes based on feedback.
"This is always an imperfect process, it's never been done before, there may need to be further changes that we make based on further feedback that we get in the running."
AMIC welcomes workforce cut clarifications
Australian Meat Industry Council chief executive officer Patrick Hutchinson said the two key parts of the restrictions were reducing the daily peak capacity of the sector's workforce by 33pc and the overall daily workforce capacity by 33pc, either from July 2020 or for a three-month period over the last 12 months chosen by the processor as their "peak" time.
"Members have been working towards this and finally having clarification, prior to 11.59PM Friday night, 7 August 2020, on what this means to get on with the job.
"We acknowledge and appreciate that there is now a threshold on the workforce impacted, so that sites with 25 workers or less will be exempt from these workforce reduction requirements," Mr Hutchinson said.
Mr Hutchinson said the Premier and his departments have made it clear that the goal is to reduce the amount of workers traveling and moving within the community.
"AMIC members are developing, with our assistance, their COVID Safe management plan which includes staff management, PPE management and testing, all to be audited over the next six weeks."
AMIC said the industry remained a leader in utilisation of PPE, with minimum requirements including face masks; hair nets; snoods; aprons (heavy plastic or disposable); rubber and plastic gloves; sleeve protectors; dust coats; safety glasses; face shields; goggles and other specialist PPE depending on worker function.
However, AMIC said at all times, work safety is paramount in the industry and it will continue to work with its members, WorkSafe Victoria and the Department of Health and Human Services (DHHS) on where the most appropriate utilisation of PPE will occur, to ensure both safety of community in virus management and safety of workers in the workplace.
AMIC said it also remained committed to its members' concerns on testing result turnaround, availability of tests, alignment with private providers of testing, and proactive asymptomatic testing and provision of results.
AMIC has created and delivered its own guidelines to industry members and will update these to meet the requirements as set by the VIC Premier at his press conference today.
However, Mr Hutchinson said it was still challenging to forecast the impact of the workforce cuts on meat supply and prices.
"What is positive for the community is that the over 800 independent retail butchers across Victoria remain open and any change to that would severely impact the ability of the community to access product, especially within metro Melbourne noting the within 5km from home community restrictions on travel.
"AMIC continues to strenuously endorse independent butchers remaining open during stage 4 lockdown," he said.
AMIC continues to advocate on lamb flush impact issue
Mr Hutchinson said AMIC has continued to advocate on the issue of lamb processors coping with the workforce restrictions during the seasonal lamb flush.
"Hopefully with the dates that this is starting and stopping and in speaking with Victorian Farmers Federation, we hope that we will be able to avoid any issue here.
"However, if the community does not get this right and our industry is punished for that, the impact on the seasonal lamb turn-off will be obviously impacted if this went for another consecutive 6 week period," he said.
"Our members stand ready to meet the key areas set out by the Premier, being reduction of movement within the community of Victoria.
"The time for supporting our industry in a positive manner, from the Premier through to Cabinet and DHHS is now. We remain grateful for the assistance from Agriculture Victoria."