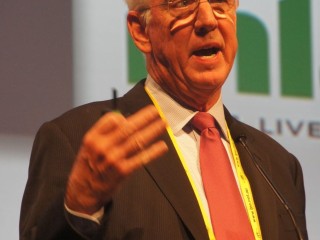 Former US under-secretary of Agriculture for food safety, Dr Richard Raymond has come under attack for comments he made about recent changes to Australia's export meat inspection system, and how their impact might be received within the US beef industry.
Dr Raymond was a guest speaker at the 2011 Australian Meat Industry Council conference in late August, where he speculated that establishment of the co-regulated Australian Export Meat Inspection System could attract opposition from unionists representing 6500 USDA meat inspectors, intent of protecting their jobs.
Beef Central's original report on Dr Raymond's conference presentation "Big changes ahead in food safety arena" can be viewed here.
Below is his recent blog on the union-derived reaction to his comments, published on US website, Meatingplace.com:
I was recently in Australia as a guest of Meat Livestock Australia, and to speak at the Australian Meat Industry Council's annual gathering.
The first three days I was escorted around some of the magnificent ranch and cattle country in NE Australia. I got to visit first-hand ranches of over 40,000 acres, and Australian feedlots. Lots of short-haired Brahmas down there.
The trip also got me into Nolan's Meats meat packing facility (near Gympie in Southeast Queensland) where once again I observed cattle with 4H clean coats, and a safety record for pathogens on and in meat that many US facilities should be envious of. Nolan's uses risk-based inspection and is now approved to export to the US.
But the big news of the week for Australian meat exporters was that negotiations with the government of Australia have concluded successfully after 12 months to allow the development of a new meat inspection model based on risk known as the Australian Export Meat Inspection System (AEMIS). To quote one of the Aussies, "This gets rid of the government bloke at the end of the chain."
I was asked what hurdles exporters would have to clear to export to the United States with this new risk based inspection system, a system similar to one we were trying to build at USDA until a certain congresswoman blocked our using tax dollars to do so.
My answer appeared in the following morning's edition of "Beef Central": "Australia's biggest problem is not going to be the bureaucrats, it will be the union. If there is anything done in Australia through AEMIS that might decrease the presence of US government paid inspectors, it will be seen as a threat to the 6500 members that can stop risk-based assessment in its tracks, even though it is the right thing to do." The writer went on to point out that currently risk-based inspection is mandatory for the FDA but was absolutely denied under USDA-based inspection for beef.
When I was asked why that is, I responded (and it was printed) that "… the FDA has no union employees, while the USDA has 6500 union members that are its inspection workforce."
The morning after my presentation, I had an email waiting in my inbox from the USA saying it was too bad I had to go all the way to Australia to "make disparaging remarks" about my former employees. "Disparaging" or just the plain truth? Either way, I was calling it as I see it.

Dr Raymond's blog on Meatingplace.com sparked an avalanche of responses from readers, many appearing to be union-sourced, condemning his comments as 'disparaging'.
Typical was this missive:
You come off as suggesting the union 'only' wants inspector jobs for inspectors. Painter wants inspection jobs to actually do the job that the American people want and expect. To the subject of this Aussie inspection, I did a little reading and sounds exactly the same as HIMP. Ever been in one of those plants? Feel like eating a septic steak? Or perhaps an emaciated one? Let's go further, TB anyone? The pressure on the 'company' inspectors is real (I know a few) and I for one do not want a company-influenced 'inspector' inspecting anything accept maybe package weights. When the subject of business and profit is discussed, morality is often ejected from the conversation."

One of Dr Raymond's responses said:
I was merely quoted as saying that the bargaining unit would resist anything that might place jobs in jeopardy and that included risk based inspection. The email I received called these "disparaging remarks". You now say that you "would not and could not ever support you on risk based inspection". That is what I was quoted as saying, that you would not support risk based inspection. Why are they disparaging remarks when I say them, but proud remarks when you say them?

Another well-known US meat sector blogger, "Meat Guy" asked:
The Aussies have a long record of producing microbiologically high quality products: Do risk based inspection and a less regulated industry explain this or are there other reasons?

Dr Raymond's response was:
Multiple factors at play here, as you well know. Risk Based Inspection could certainly be a factor also, or maybe a reward. My point is that many Australian facilities have better safety records than ours, yet there has been consistent opposition in the US to letting meat from those plants with RBI ship to the US, based not on safety records but on number of federal employees in the plant."