INTERVENTION is urgently required to safeguard the future of the Australian meat processing industry, as it deals with operating costs which are dramatically higher than key global competitors, according to the Australian Meat Industry Council.
Responding to yesterday's release of an independent analysis of regulatory and related Costs in red meat processing  commissioned by the Australian Meat Processor Corporation, (click here to view yesterday's report), AMIC chief executive Patrick Hutchinson said the document offered a stark illustration of how difficult it was for Australian processors to compete.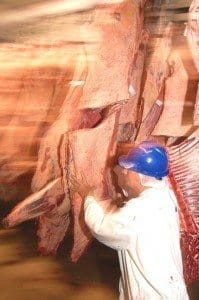 The red meat processing sector, of which beef processing is the largest contributor, is estimated to have contributed over $21 billion in value add to the economy in 2015/16, including $8 billion in household income and nearly 130,000 jobs.
The report found that average cattle processing cost per head was 24pc higher in Australia than in the United States, 75pc higher than in Argentina and more than twice as much as in Brazil.
"AMIC's members are providing jobs to local communities, they're producing high quality meat products, they're doing everything right. But when you consider that about 80pc of Australia's product is exported, its easy to see how sky-high operating costs that outstrip those of our competitors are crippling the industry," Mr Hutchinson said.
"To remain viable, our industry has to be able to compete against key global players including Brazil, Argentina and the US. But between government red tape, labour expenses and soaring energy prices, our costs to operate are far greater than those competitors."
"A sustainable processing sector is essential for the entire agribusiness industry, including independent retail butchers and smallgoods manufacturers who are also part of AMIC's membership, as well as the farmers who sell their stock to processors, and those who manage stock between farm and processor like stock agents and transporters."
The AMPC report shows regulation and certification are major contributors to this disparity, with more than half the costs in Australian processing (excluding livestock purchase) due to some form of regulation. Labour is also a significant factor in cost-to-operate discrepancies across markets. AMPC's report found labour-related charges make up nearly 60pc of total operating costs in Australian facilities, compared with less than 50pc in the other countries examined.
"Energy costs were also much higher in Australia than in the US or Argentina," Mr Hutchinson said.
"In fact, energy is the absolute number one challenge identified by AMIC members. Prices have been going in one direction and our members are hamstrung in terms of what actions they can take to help manage their costs."
He said AMIC was calling on state and federal governments to work with industry on finding ways to bring down the cost to operate.
"Its about finding the right balance. Our industry is proud of its track record around quality and innovation and obviously there are some costs associated with maintaining that reputation, particularly around regulation and certification and even in relation to staffing. But there are lessons to be learned from our competitors, and there are opportunities to look at doing things differently."
"The red meat sector is a really important link in the Australian agribusiness supply chain. It's vital that industry and government are on the same page when it comes to boosting competitiveness and bringing operating costs under control. We've seen some excellent government initiatives to support farmers and that's really encouraging. Now its time to ensure the broader supply chain is also well supported and set up for ongoing success. Investment in processing is good for all stakeholders across the supply chain, and its time for government to acknowledge and act on this."
Source: AMIC