ALMOST two thirds of Australia's red meat processors are prevented from running at capacity due to what the Australian Meat Industry Council calls a 'Labour Deficit Epidemic' in regional Australia.
In a discussion paper released by AMIC in the lead-up to the Federal Election, the council is calling on both major parties to address the key challenge for the red meat manufacturing industry: its inability to access enough skilled and unskilled workers in regional and rural Australia.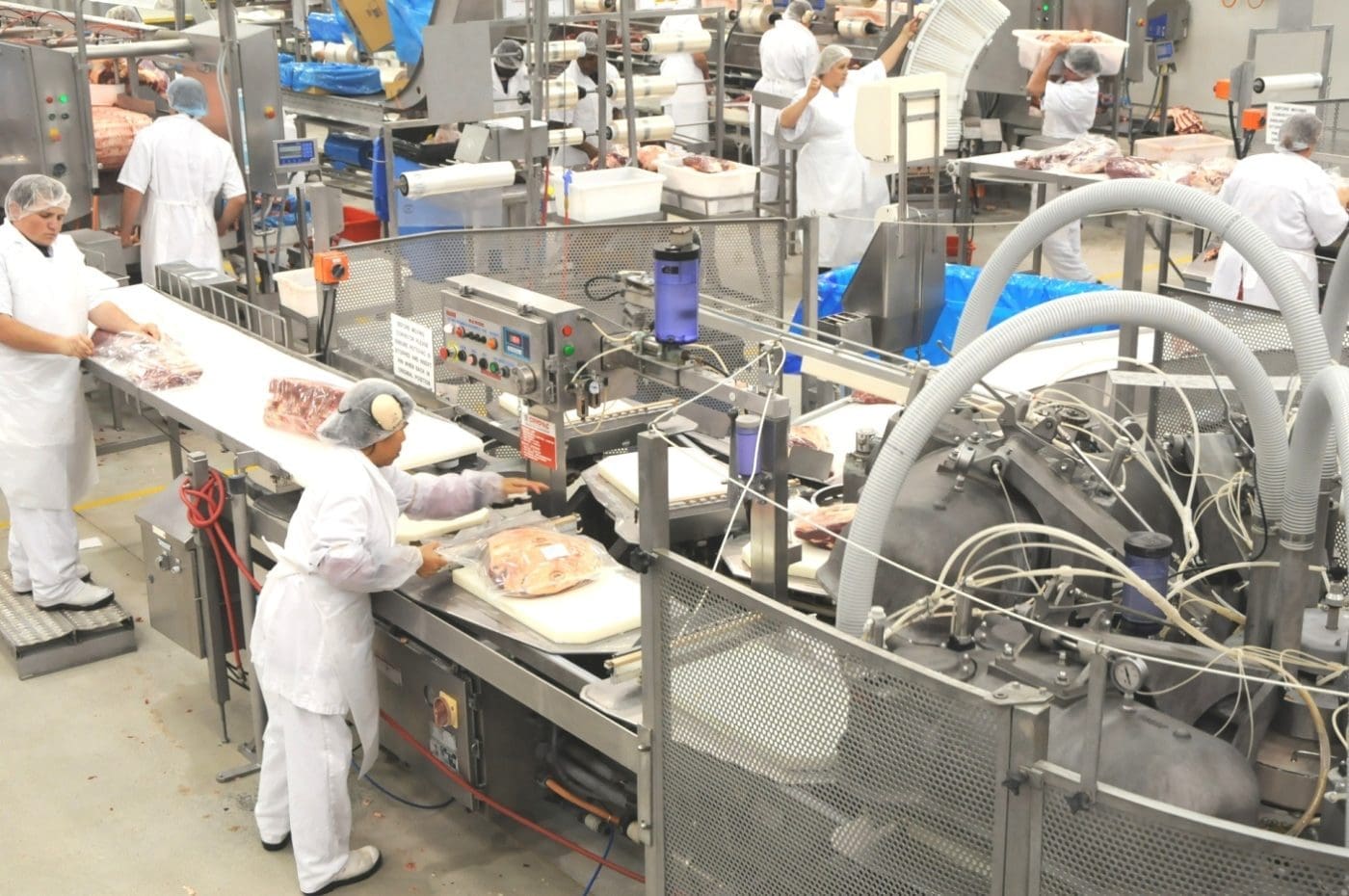 The representative body for meat processors, independent retailers and smallgoods manufacturers said its priority ask of government is simple. It wants a clear commitment from all sides that its members can set production targets with confidence, knowing they can access a permanent and stable workforce.
Further down the supply chain, independent butchers are also finding it difficult to fill job vacancies and do not have funding to take on apprentices.
Recent Australian Meat Processor Corporation analysis has shown that processors are faced with operational costs (excluding livestock) between 1.5 and 2.8 times higher than key international competitors. With about 72pc of Australian red meat exported, the industry's long-term sustainability is dependent on remaining competitive in international markets, and labour plays a critical part in that.
At a 2018 workshop, AMPC members identified labour as their number one industry issue. Subsequently in an industry survey conducted by the Australian Meat Industry Council last year, the shortage of labour was identified as the second greatest barrier to red meat processors operating at full capacity – exceeded only by livestock production.
Survey respondents (representing 14,427 processing employees or about 50pc of total industry employment) identified a labour shortfall of 3784 workers, or an average 20pc shortfall of workers across the respondents.
AMIC chief executive Patrick Hutchinson said the cost to operate a business in the meat manufacturing industry is high, but the margins were not.
Labour-related costs accounted for 55pc of the total cost to operate (excluding livestock purchases), which is significantly higher than for major international competitors Brazil and the US, according to AMPC's Cost to Operate report.
"As one of the largest regional employers, and the country's largest trade exposed manufacturing industry, we are calling on the Government to reduce the burden so red meat processors and the red meat supply chain can get on with supplying Australia and global markets with the world's best red meat," Mr Hutchinson said.
"The supply chain is facing a drought of the most severe magnitude — a drought in local workers who are willing to be trained-up in our industry, and a visa system that is not fit for purpose," he said.
"This is denying us ongoing access to overseas workers who have been trained to do the jobs that local workers are either unable to fulfil because of the labour requirements, or because they are unwilling to stay in the industry."
Further to this, Labor Party leader Bill Shorten's pledge to increase the pay of overseas workers by $11,000 per annum would add tens of millions to the industry's wage bill, significantly impacting its ability to achieve a permanent and stable workforce.
Canadian processors forge new offshore labour path
The situation in Australia has some parallels with similar challenges faced by the Canadian red meat processing industry, where a new immigration pilot project was launched recently to address the issue of labour shortages in that country's meat processing sector.
The Canadian Meat Council (CMC) welcomed the move by the Canadian government, which is to introduce a three-year Agri-Food Immigration Pilot to bring in full time, non-seasonal agriculture workers that will include a pathway to permanent residency.
CMC said it had been advocating the need for such a program that would help the sector deal with a "critical and chronic shortage" of meat workers and solve issues surrounding the country's current Temporary Foreign Workers Program.
"This pilot is vital to our sector. Our members provide year-round, permanent jobs. There's nothing temporary about meat processing's workforce requirements," said CMC president Chris White, in a recent statement.
In a situation reminiscent to Australia, Canadian meat processors currently have more than 1700 vacancies to fill, with 900 meat workers looking for permanent residency.
"This immigration pilot will provide a pathway to residency for butchers, which isn't available to us right now," Mr White said.
CMC said it had been asking for 2750 immigration spots for three years, as Canadian meat processing needed more meatworkers to remain competitive.
"Canadian meat processors need to be competitive in a global market where Canada's brand is in high demand," Mr White said. "Canada is signing trade agreements, and, in order to meet our new export opportunities, we need more personnel. These jobs go to Canadians first, but if Canadians do not apply, we still need butchers to cut meat for customers here and overseas."
An Agri-Food Economic Strategy report released by Industry Canada last year highlighted the need to address the labour shortages facing the nation's meat processing sector and to modernise Canada's immigration and temporary foreign worker programs.
Big need for visa workers
In Australia, industry estimates suggest that 23pc of the shortfall in meat processing (estimated at 3784 workers, or an average 20pc shortfall of workers across respondents in a recent industry survey) would need to be filled by visa workers.
Across recent industry survey respondents, 63pc already employed visa holders. On average, visa holders made up 25pc of total employees, including 7pc 457 & 482 visa holders and 17pc 417 visa holders.
Australian red meat processors continue to struggle with the current Temporary Visa Program.
Although there were welcomed changes to the 417 program to increase a person's ability to work for one company from six months to twelve months, this was still not long enough to upskill someone past the labouring stages, prior to them needing to move, AMPC said.
To get a slaughterman or boner to the required skill levels takes a lot of training, and companies need a program where they are able to invest in a person and realise the long term benefits.
AMIC raises four key points
Access to overseas workers with fit-for-purpose visas as part of a total employee mix was one of four key employment areas identified by AMIC's employee reference committee that are in dire need of government support. The other three include training, skilling the long-term unemployed and the need for permanent migration into regional areas.
Training:
Despite an average youth unemployment rate of 17pc across 20 regional areas in Australia, there has been a sharp decline in the number of school leavers being trained in meat processing, smallgoods manufacturing and butchery.
In the last financial year, 73 processing plants advertised for almost 6500 new workers, which were filled by 4600 local Australian workers. However, this has failed to fill or even maintain job vacancies, particularly as Australian local workers stay an average of less than six months in the job.
The Coalition government has not included independent butchers, processors or smallgoods manufacturers in its list of 80,000 apprenticeships that will be funded nor has it catered for traineeships, which is a significant area of training in the meat industry.
Labor has promised to double the Coalition investment to $1b, but it also has not catered for traineeships.
AMIC's Call to Action from the new government over training:
Coalition to include processors, smallgoods manufacturers and independent butchers on the apprenticeship list and to add traineeships for eligibility.
Both parties need to confirm if funding incentives will be available to boost traineeships as well, given that they are used significantly as a progression towards a skilled workforce.
Most importantly, there needs to be a holistic approach by all levels of government, training institutions (schools and universities)/organisations (TAFE/RTOs) and regional and rural community groups to assist the meat manufacturing industry to attract, recruit and train and retain local Australian workers of all ages and genders.
Long-term unemployed in regional and rural Australia
AMIC is currently working with the Department of Jobs and Small Business to promote the current Launch Into Work program amongst its 2000 members in the hope that individuals, who have had a period of long-term unemployment, will take up red meat manufacturing and retail industry jobs.
Processors have found that a large number of long-term unemployed people are unable to join the workforce due to their use of illicit drugs and alcohol. At least 20pc of jobs applicants fail to turn up to mandatory drug testing and a significant number fail the tests.
AMIC's call to action from the new Government over Long-term unemployed:
AMIC members want to join forces with government, secondary and tertiary educators, RTOs, healthcare authorities and community-focused organisations to develop solutions that help to upskill and provide lifestyle choice education for the long-term unemployed.
Also greater funding needs to be provided to treat illicit drug and alcohol addiction in the bush and not just metropolitan areas.
Access to overseas workers
Currently out of necessity, overseas employees account on average for 3pc of red meat processors full-time skilled employees and 17pc of casual workers.
In November 2018, the Minister for Immigration announced that from 1 July this year workers with 417 and 462 visas could stay in regional areas and operate at one plant for up to three years with annual renewal application.  This has been viewed positively by the red meat industry.
The Skilling Australians Funding (SAF) Levy, which partly paid for by employers who sponsor a foreign worker as they are required to pay a Nomination Training Contribution Charge (known as a levy) under certain visa types. This is an upfront charge of $7200 per foreign person employed and it's incurred each time a visa is renewed within the timeframe allowance. This is too costly for business, AMIC says.
Earlier this month, the Opposition Leader pledged that employers would be required to pay an additional $11,000 per annum to overseas workers on 457/482 temporary work visas if they were voted into government. Mr Shorten's announcement would only negatively impact workforce capacity further, particularly as a pay increase to employees under the skilled migration scheme would add tens of millions of dollars to the red meat industry's wage bill, AMIC said.
Call to action from the new Government over overseas workers
Clarification is needed on Labor's position on 417 and 462 visas.
Reduction in cost of SAF levy. If a regional red meat manufacturing employer had 150 foreign employees, than the annual levy would be more than $1 million, which makes employing overseas workers almost probative especially when some unemployed regional Australian workers won't work.
The SAF levy paid by regional businesses at the very least should go back to the regions to support local training.
The party that is voted in to govern the country should show leadership in the bush and provide regional training centres. A divided Australia is a socially and economically weak Australia.
Permanent migration into regional areas 
In April, the Morrison Government announced it would cut the permanent migration program from 190,000 to 160,000 places and encourage migrants to work in the regions. This was disastrous for the red meat manufacturing industry as it reduces the pool of low-skilled and unskilled labour positions, which made up the bulk of the industry's workers, AMIC said.
Migrant caps and redirection of skilled labour would not fix the problem. AMIC's research has shown that constrained visa quotas simply do not meet basic labour requirements, especially in rural and regional areas.
Call to Action from the new Government over permanent migration into regional areas
•             The key to Australia's regional growth is to attract foreign workers and have them stay permanently in the bush, so they can join and rebuild diminished communities and add to economic growth of these regions, AMIC said. This would reduce the widening divide between over-populated cities and under-populated regional Australia.