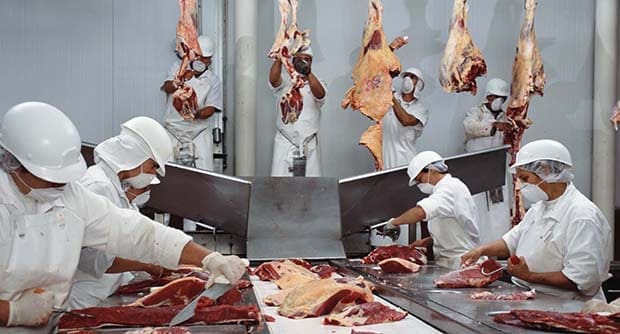 THE Australian Meat Processor Corporation today launches its new national campaign, More to Meat, highlighting the important role red meat processors play in regional communities, the national red meat supply chain, and the industry's significant contribution to the national economy.
Launching at the site of Thomas Foods International's flagship new facility at Murray Bridge, SA, due for completion later this year, the campaign will focus on regional communities with red meat processing facilities.
AMPC chief executive Chris Taylor said More to Meat would shine a light on red meat processors' proud involvement in regional Australia providing jobs, economic opportunity and supporting farmers.
"Some 300 communities around Australia are supported by a red meat processing facility, and they are often one of the biggest employers in town," he said.
"The number of people employed in Australia's red meat processing industry could fill the Rod Laver Arena almost ten times over, and they are all working to produce the highest quality red meat demanded worldwide," Mr Taylor said.
Thomas Foods International managing director Darren Thomas said red meat processors worked with livestock producers and local businesses to ensure the supply chain kept Australian families well fed with nutritious, high-quality products.
"This new facility in Murray Bridge really is evidence there is 'More to Meat'. It will showcase advanced food manufacturing and demonstrate our industry's commitment to continuous improvement in areas of food safety and shelf life, technology, efficiency, environmental sustainability, animal welfare and workplace safety," Mr Thomas said.
"We're proud to provide evidence of how there is More to Meat with diverse job opportunities for stable careers here in Murray Bridge and around the country.
"This new Murray Bridge facility will employ people in roles as diverse as robotics experts and engineers. Our kids go to school in town, they play on the local footy or netball side, and their partners often work in town too," Mr Thomas said.
AMPC chairman John Berry said the importance of the red meat processing industry to the Australian agriculture sector was undeniable.
"Australian red meat is a world-class product, generating $21 billion for the Australian economy.
"Red meat processors employ safety and hygiene specialists, scientists, mechanics, tradies, and marketers which enable us to produce meat right here that is a favourite on dinner tables in more than 100 countries from the US to Japan, and Korea," Mr berry said.
"Red meat processors generate billions of dollars in economic activity, create advanced manufacturing jobs in regional Australia, and produce a world-class product. That is why there is More to Meat," he said.
For more information on the More to Meat campaign, click here
Source: AMPC