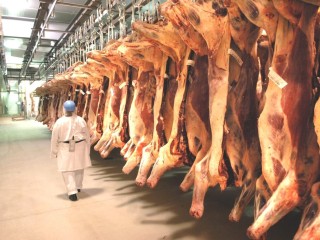 Solid rises in processing activity in Southern states drove a five percent increase in the rate of kill across Eastern Australia last week.
The NLRS slaughter report lodged yesterday afternoon produced a combined Eastern States kill for the week ended Friday of 136,805, up from 130,173 for the previous seven-day cycle.
That's the largest kill seen in 14 weeks.
Biggest contributor was a 22pc rise in processing throughput in NSW to 34,242 head, following a return to normal patterns after a short kill due to a Monday public holiday the week previous. Wet weather also contributed, slowing cattle supply in some states in early October, but returning to normal last week.
While the gradual rise in direct consignment slaughter livestock rates over the past two months has inevitably contributed to last week's expanded tally, the trend may be short-lived, as some meatworks cattle quotes in some segments were adjusted downwards yesterday.
Driven by its sharpest five-day rally in 32 months, the A$ rose by almost 6c in the space of a week to reach US103.24c yesterday (see Beef Central's report "A$ surge impacts export competitiveness.")
That prompted Teys Brothers to lower its grid rates on a range of meatworks cattle at the cow and manufacturing end, by 5c to 15c/kg yesterday afternoon. All eyes will be on JBS Australia to see whether they follow suit when the company reviews rates tomorrow morning.
Some onlookers have suggested the manufacturing beef end of the cattle market has been unsustainably high for some time, as processors chased killable stock.
Just last week, MLA analyst Tim McRae pointed out that the direct consignment cow indicator figure ex Southern Queensland was up 17pc on this time last year, while steers were typically only up 6-7pc in the same comparison.
Any grid corrections by processors might put a little softness in this week's slaughter cattle flow, particularly if they become more widespread, one observer suggested.
Queensland's kill last week eased 2pc to 72,385 head, following a surprising 8pc lift in the previous seven-day cycle. Far western and northwestern cattle continue to provide the mainstay of export kills across Queensland at present, with some good cattle flows out of the Central parts of the state from Longreach to Roma.
Yesterday's SEQ grids for better cattle include best grassfed 0-2 tooth bullocks around 365c/kg, best cow 345c, grassfed trade steer 365c.
In other parts of southern Australia, Victoria's kill was up 8pc to 19,035 head, partly explained by weather patterns improving cattle access after some earlier wet days.
South Australia's kill was down another 2pc to 7531 head, continuing a recent downwards trend, while Tasmania's tally lifted 5pc to 3612, still recovering after a slow few weeks.
The NLRS Eastern States Young Cattle Indicator closed yesterday at 395.75c/kg, down 3.25c from a week earlier. The heavy steer indicator (197.5c) and medium cow (152.9c) were both unchanged over the weekly cycle.