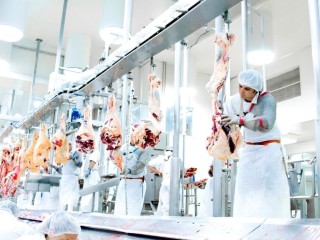 The Eastern States weekly cattle kill last week met earlier expectations, taking a nose-dive on the strength of export plant closures and continuing pressure from lack of profitability in export markets.
The NLRS slaughter report covering the three eastern mainland States plus Tasmania and South Australia reported that processing numbers for the week ended Friday, July 8 reached 129,956, down 6pc on a week earlier and 9pc in a fortnight.
Queensland, which represents around half of the nation's kill, slumped 11pc on the previous week to 66,071 head, while South Australia took an even larger 19pc dive to 6200 head.
There were two obvious reasons for those State results:
JBS Australia closed its doors for at least a fortnight at its Beef City grainfed plant near Toowoomba on Friday July 1, due to the adverse trading conditions for grainfed beef in Japan. On current expectations, Beef City is not due to recommence boning until July 18. The closure is taking 1100/day capacity out of the JBS system, and Queensland's weekly tally.
Similarly, the closure of Teys Naracoorte plant in SA due to a plant upgrade and general maintenance is severely impacting that State's slaughter throughput. Tough trading conditions is an equally important underlying factor.
Other states' kills fared a little better last week, with NSW up 2pc to 37,238 head, while Victoria was up 2pc to 16,906 after a poor kill the week previous. Tasmania's kill also recovered a little, up 2pc to 3541, although comparisons with kills recorded in the same week last year perhaps tell a more accurate story. Tasmania's weekly kill to Friday was in fact down 25pc year-on-year, while Victoria was down 16pc and South Australia, 6pc.
Indications would suggest throughput rates this week and for the immediate future will decline further – possibly dramatically – judging by the current defensive mood among processors and the state of supply/demand.
Within the Teys stable of factories, for example, Beenleigh will kill three days this week, with Biloela and Lakes Creek four each (Naracoorte will remain closed).
Next week, few if any Teys plants are likely to operate beyond three days, senior management said. Other large processors are shaping up to take similar action.
Several significant cattle sales at Longreach and Blackall were cancelled in Queensland this week, and benchmark sales like Roma and Dalby are well back in numbers. Roma dropped from 8000-plus last Tuesday to an anticipated 4000+ at today's sale, as producers with a strong feed reserve resisted meeting processor rates for slaughter cattle.
"Here we are in the second week in July, with minus-five temperatures being recorded. That normally triggers a big flow of cattle as the country goes off, but this year: nothing. It's unheard of," one large processor said.
Processors continue to write disastrous losses on grainfed export cattle, and little better on grassfed export stock. Late last month losses above $200/head were being recorded on heavy grainfed cattle, and $100+ on grassfeds.
"Processors will continue to take-out production capacity, rather than incurring such big losses killing cattle," a multi-site processor said.
The difficulty in selling meat into sluggish Japanese and US export markets meant there had been a big build-up of meat in domestic cold storage that still had to be cleared. While scheduled short kill weeks and plant closures would help ease that inventory problem, there was still a way to go to reach supply/demand balance, a respected meat trader said yesterday.
Some of the chilled product in storage is now running out of shelf-life, and being frozen-down, which devalues it further. Beef Central's trade contact gave an example of large volumes of grassfed cube rolls that were frozen-down because of shelf-life issues, which ultimately sold for $4/kg wholesale, down from an original price of $12-$14.
As a result export processors are tending to put-off kills of higher-value cattle first, because of the greater losses associated with those descriptions. Manufacturing meat was tending to be a little easier to shift.
Looking at kill figures for the full month of June, eastern states weekly kill declined 12pc compared with the five-year June average and was 24pc below June last year, according to MLA's NLRS. Cattle throughput last month slowed in all states, with total Eastern States throughput falling 5pc compared with May and registering the lowest June total since 2008.
Cattle turnoff slowed during June, as producers were able to retain cattle, reluctant to sell in the wake of the cheaper direct-to-works rates and physical market prices. Slaughter demand was also reduced, with the tougher meat market conditions prompting some processors to operate at reduced capacity. Additionally, wet conditions in northern NSW and Victoria reduced turnoff, along with impacting the quality of young cattle.
Queensland throughput in June was 24pc below the same period last year and 11pc behind the five-year average. NSW was also back 24pc compared with 2010 levels. The largest change was seen in Victoria, where throughput eased 28pc year-on-year and was 24pc below the five-year average, while SA slaughter volumes fell by 20pc year-on-year.

The Eastern Young Cattle Indicator closed yesterday at 375c, down 2.5c from a week earlier.