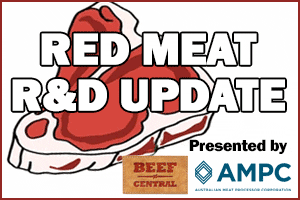 WELCOME to the fortnightly series of articles focusing on red meat R&D, presented by Beef Central and the Australian Meat Processor Corporation. These items will highlight a range of projects designed to enhance the efficiency, productivity, product quality and safety of Australian red meat sold into the domestic market and around the world.
All have the ability to help underpin Australia's unrivalled reputation as the world's premier export of quality beef, lamb and offal. Links to previous articles in the series appear at the bottom of this page.
THE pathway to a more competitive, profitable, and sustainable red meat processing sector is a daily focus for Australian Meat Processor Corporation's CEO, Chris Taylor.
Overseeing the delivery of the processing industry's strategic R&D plan, Chris is upbeat about the opportunities to harness innovation to evolve the processing sector's production, safety and sustainability performance.
"The processing industry is on an innovation threshold, where the convergence of people, technology and fresh approaches have the opportunity to genuinely transform," Chris said.
With significant global development in advanced technologies such as virtual reality, artificial intelligence, and machine learning, over the next 12 months the AMPC team will be increasing efforts to partner with processors in a commercial environment.
The application of new technologies and trialling new approaches in-plant will have implications across processing business, spanning production, human resources, and sustainability.
"Our focus is on commercial outcomes, real impact – our investments must deliver tangible value," Chris says.
And for Australian processors, now is the time to challenge the status quo and get involved.
Challenging processor operating environment
There is no question that the past 12 months has seen a challenging operating environment for Australia's processors. Significantly reduced livestock availability, Covid-19, growing pressure to demonstrate sustainability credentials, and unstable labour supply have tested the resilience of even the most experienced operators.
"We must be attuned to the challenges our industry faces and respond, no question. But for us to deliver the most value, we must be inquisitive, forward-thinking, and optimistic. It is important that we are ahead of the curve, and if opportunity doesn't knock, build a door."
A major focus for Chris during his two-year tenure as AMPC's CEO has been cementing a business model that listens, responds to, and works intimately with the processing industry to deliver short, medium and long-term outcomes.
"Our vision is to be a trusted advisor to our processors, with really close relationships that allow for experimentation," he said.
A team of co-innovation managers was appointed during the last 12-18 months to support relationships with processors, and to directly facilitate processor involvement in R&D, extension, and adoption activities.
"My challenge to the processing industry, and our co-innovation team, is how can we work together to identify and address barriers to innovation and adoption to get ahead of the curve. Now is as good a time as ever to ask, 'what if?'" Chris said.
AMPC's recently published Annual Operating Plan outlines key activities for the year ahead. Here are a few examples of current R&D work:
Tech projects
 3D Printing
AMPC recently signed a contract with Markforged and Konica Minolta to establish a world-first, industry-owned additive manufacturing (3D printing) service model to help red meat processors across Australia to print equipment parts.
Chris said, "We are at the start of this three-year program, and it will see two mobile non-metal industrial 3D printers shipped to Australian processing plants. Processing staff will be trained to use them so they can assess whether buying a permanent unit would be a good investment. The units will remain on site for four to eight weeks before rotating to another plant."
As part of the program, a metal printing 3D industrial unit will be set-up at Konica Minolta's Sydney location dedicated for red meat processing part manufacturing. Plastic prototypes made at each processing location can be sent to this hub to be made out of stainless steel and other metals.
Shadow robots
AMPC is exploring the potential of pairing an employee with a 'shadow' robot-enabled device in the production room. This would leverage the skills of operational staff while removing their hands from the dangerous tasks such as bandsaw operations.
Chris said, "If this proves successful, the hope is that this technology may see processors adopt this type of approach at all Australian processing facilities. But it could even go further, with those operational staff eventually housed in control rooms away from the processing floor."
Sustainability projects
While the entire red meat supply chain faces increasing pressure to demonstrate positive sustainability credentials, the benefits of embracing sustainable practices go far beyond this.
Reducing the need for fossil fuels
AMPC is conducting a pilot for processors to help reduce emissions and slash thermal energy costs by demonstrating multi-fuel biomass alternatives to the use of fossil fuel boilers. The pilot will test biomass combinations in a portable multi-fuel biomass boiler. The objective is to build confidence and capability when members consider renewable solid fuels for thermal energy.
Water recycling
Red meat processors have reduced water intensity by nine percent in their operations since 2009, mostly through water efficiency actions. The next big challenge is advanced water recycling using technologies including reverse osmosis.
AMPC is running pilot project due to begin later in the year will provide three containerised MF-UF Reverse Osmosis units that have multiple filtration choices, to rotate across Australian processing facilities.
People projects
The future of red meat processing is underpinned by the availability, safety, and capability of the 30,000 people it employs.
Innovation managers
Through its Plant Initiated Projects (PIP) activities, AMPC provides support for in-house innovation managers in processing plants with a view to building internal innovation capability and driving innovation activities in partnership with AMPC. Chris says, "We encourage them to develop an innovation plan for their processing plan within 6 months of signing up, and then work closely with us on specific processing plant R&D."
Safety and wellbeing
AMPC also runs leadership and wellbeing programs for processing plant employees. Chris said, "We've just started a wellbeing assessment project where we will measure and understand what industry wants and over the next three years we will customise and tailor a dedicated wellbeing program for industry."
Each year AMPC also supports one industry representative to undertake the Australian Rural Leadership Program and fund and manage the Diploma of Leadership in Meat Processing.
Chris said, "I am looking forward to reporting back to processors in our Annual Report in a couple of months on the progress we've made around technology, people and sustainability activities, amongst others, and again encourage processors to get involved."
Source: AMPC