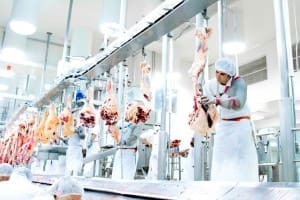 One of Australia's largest beef processing companies has called on governments across Australia to recognise the importance of regional manufacturing, warning that without serious IR reform, some regional centres could become economic ghost towns.
Teys Australia, with plants across regional centres in Queensland, New South Wales and South Australia, employs more than 4500 people directly and, according to an economic impact report, underpins more than 17,000 full-time equivalent jobs when flow-on effects are taken into account.
Teys' general manager of corporate affairs, Tom Maguire, said while the company is committed to Australia, the business environment is not investor friendly and predicts more manufacturers will close.
"There's been a lot of talk about protecting manufacturing, especially in the food sector, but we've seen very little substantial action," he said, in a statement.
Mr Maguire says governments could take measures to make it easier for business to operate, but are often too scared by the political consequences.
"Business is not looking for direct government assistance, but we need government to reduce barriers for manufacturing to operate in regional areas and specific policies to build local economies.
"Business can do the rest," he said.
Mr Maguire identified three areas of key importance: the reform of labour arrangements, greater market access and a reduction of costs and charges on companies.
"We must remove the ability by third-parties – namely unions – to interfere with the relationships companies have with employees, allowing them to hold up and counter legitimate agreements," he said.
Teys employees at the company's Beenleigh plant recently voted to approve a new workplace agreement, yet the Australasian Meat Industry Employees Union has obstructed the agreement and mounted continual appeals.
"While this sort of behaviour is allowed, companies will lose money, jobs will disappear and business will look for cheaper options internationally," Mr Maguire said.
"Australia was built on strong regions, but time is running out to keep them strong."