Business analysts at IBISWorld have produced a list of Australia's Top 1000 companies by turnover, and the biggest mover on this year's list comes from the beef industry.
Northern New South Wales beef processor and exporter Bindaree Beef jumped an incredible 338 places on the list in a single year, rising from position number 873 in 2014 to 535 last year, on the strength of a 23.5 percent increase in total revenue to $705 million.
The result reflected the unusual industry circumstances that existed for the past two years with abundant cattle supply forced by drought, combined with high international demand for Australian beef.
IBISWorld attributes Bindaree's strong increase to a marked rise in demand for Australian beef in export markets, particularly in Asia where incomes have been growing strongly over the past three years. "This strong demand has driven up beef prices, and Bindaree Beef has benefited from increasing sales both in volume and value terms," explained IBISWorld senior industry analyst Jem Anning.
Bindaree last October announced the formation of a joint venture with Chinese company, Shandong Delisi Food Co, which will see Delisi invest $140 million in Bindaree in exchange for a 45pc shareholding in the company. The deal valued Bindaree at just under $400m. Bindaree's First Cut beef brand (pictured below) is now being distributed in China through JD.Com's online direct sales business.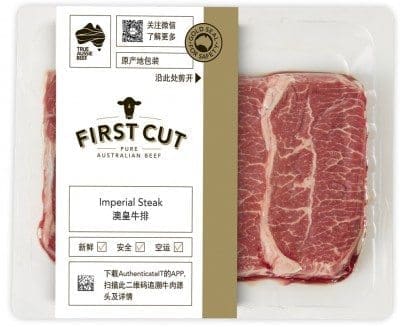 Other substantial 'movers' on this year's list come from a diverse industry mix, and include Greencross, Investa, Youi and MetLife Insurance. Revenue growth among the 'big mover' companies resulted from factors such as strengthening organic sales, acquisitions and increased activity on the back of government grants.
IBISWorld's offering included diverse insights into the nation's most successful companies, growing and declining sectors, and new businesses to watch in 2016 and beyond. The top 1000 list includes public and private companies, and government organisations.
Retail dominates
Retail behemoth Wesfarmers has jumped into the number one position, overtaking major rival Woolworths on the back of the robust performance of its grocery arm, Coles, which has gained market share in the supermarkets and grocery stores industry.
The big four banks have all held on to positions in the Top 10 this year, despite the current low interest rate environment putting pressure on growth.
"The big four banks remain the largest four companies in the country by assets, holding more than $3.5 billion between them. Even though growth is not significant in this sector in the current climate, their collective revenue of almost $165 billion puts them firmly near the top of the list," Ms Anning said.
Beyond supermarkets and banks, there are no surprises in this year's Top 10, which is rounded out by Rio Tinto, BHP Billiton, Telstra and Caltex Australia.
BHP Billiton had held the number-one spot on the list since 2010. However, the South 32 demerger which was completed in May last year, has caused BHP to fall to fourth position on the 2015 list, Ms Anning said.
Major movers: moving down
The company with the dubious honour of falling the furthest on the latest Top 1000 list is Mount Gibson Iron, which plummeted 511 spots. Mount Gibson endured numerous challenges during their last reporting year, including volatile and often lower iron ore prices, a flooded mine and losses in foreign exchange hedges.
Companies to watch: the newcomers
According to IBISWorld, the newcomers to the latest list cover a broad range of sectors, from finance and tourism to health and property development. Newcomers to the list include ME Bank, Travelex, I-MED Radiology Network, Intrepid Travel and Swisse Wellness.