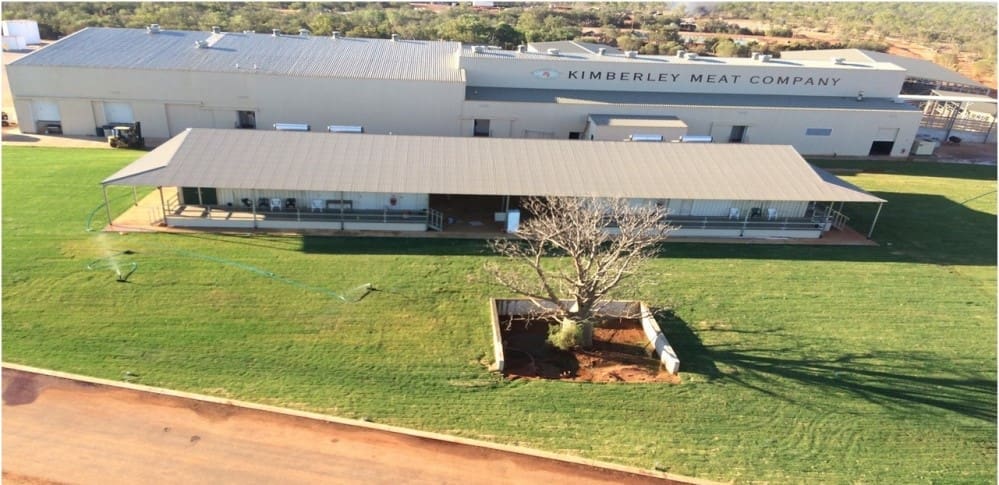 KIMBERLEY region cattleman Jack Burton has sold his family's interests in Yeeda Pastoral Co and the Kimberley Meat Co processing facility he co-developed near Broome.
Mr Burton will stand down as the business's managing director and chief executive to focus on his passion for building a major new cattle business in northern Australia.
His resignation was accepted at a meeting of Yeeda's board of directors this morning. Yeeda's three other shareholders, including chairman Mervyn Key, have acquired Mr Burton's stake in the business.
Mr Burton and his family will retain ownership of Kilto Station, which Yeeda will continue to lease until December 2020.
Yeeda chairman Mervyn Key, who co-founded the company almost 20 years ago and is its largest shareholder, has taken on an executive role effective until Yeeda appoints a new chief executive to run the business.
A statement said the new CEO would be in place in time for the new 2020 processing season expected to commence in February.
Yeeda Pastoral Co owns and operates the Kimberley Meat Co processing plant between Broome and Derby. The facility can handle 37 head per hour, or up to 70,000 head per year, and is the only abattoir in WA's North. The plant is operational between the end of February and early December before the annual shutdown during the annual wet season. The business had a good season this year, processing about 50,000 head of cattle, up substantially on 2018.
In addition to Kimberley Meat Co, Yeeda Pastoral controls several livestock properties, including Yeeda Station, Springvale, Mable Downs, Texas Downs, Alice Downs and Mt Jowlaenga, covering more than one million hectares in the Kimberley.
Chairman Mervyn Key thanked Jack Burton for his significant contribution to the company's growth over many years.
"The Burton family has been an instrumental part of the Yeeda success story and we wish Jack and his family all the best as they endeavour to grow their northern pastoral businesses," he said.
"In the interim, I will take on executive duties to provide operational stability for the existing leadership team and all staff, ensure it remains business as usual for Yeeda and deliver a smooth transition for our incoming CEO."
Beef Central was told the Yeeda and Kimberley Meat Co businesses remained in a sound financial position.
Mr Burton said he was proud of what had been achieved at Yeeda and thanked Mr Key, as chairman and company co-founder, and the Yeeda team for their support over the years.
"The creation of the Kimberley Meat Co has been an epic journey that we and everybody involved should be very proud of," he said.
"The time has come for our family to seek new pastures and devote all our energy to growing other northern pastoral businesses. In due course we see ourselves becoming a major supplier of cattle to Yeeda's Kimberley Meat Co."
In 2019, Kimberley Meat Co was named Regional Exporter of the Year at the prestigious WA Industry and Export Awards, sponsored by the WA Government and the Export Council of Australia.
MOU with Indigenous land owners
In April, operating independently from Yeeda Pastoral, Mr Burton established a Memorandum of Understanding with the indigenous-owned MG Corporation.
The MoU was designed to see parcels of native title land in the East Kimberley transitioned to cattle and irrigated fodder production which is expected to boost the northern cattle industry while driving jobs and economic development for Aboriginal people.
Last year, the WA State government provided $500,000 to MG Corporation to support its path to financial sustainability with a focus on driving creative agricultural expansion opportunities.
It cames as the WA State government stepped up work with Aboriginal landholders in the state's north to explore alternative pastoral business models that would create job opportunities for Aboriginal people, and support expanded cattle production in the region.
The Miriuwung and Gajerrong (MG) people hold native title to large areas in the north of the East Kimberley region from Lake Argyle north around Kununurra to the Ord River Nature Reserve and the State border.
Beef Central was told that suggestions that MG Corporation had taken a financial interest in the Kimberley Meat Co abattoir were incorrect.
MG Corporation was established in 2006 to represent the interests of MG native title holders and to receive and manage the benefits transferred under the Ord Final Agreement (OFA) to MG people.
The OFA provides a broad package of measures to create a platform for future partnerships between MG people, the State government, industry and developers, for the benefit of the MG community and the wider East Kimberley region.
As one of the leading indigenous organisations in the East Kimberley, MG Corporation said at the time the MoU was signed that it was committed to building a strong economic and social base for MG people beyond the life of the OFA by pursuing an inclusive economic development agenda, while protecting and enhancing MG culture and heritage.