While on face value last week's Eastern States beef kill appeared to have started to slow, there are some underlying reasons why the real number remains stubbornly high.
The National Livestock Reporting Service yesterday reported an Eastern States beef kill of 151,561 head, back 2.7 percent on the previous week, but still well above where kills sat this time last year.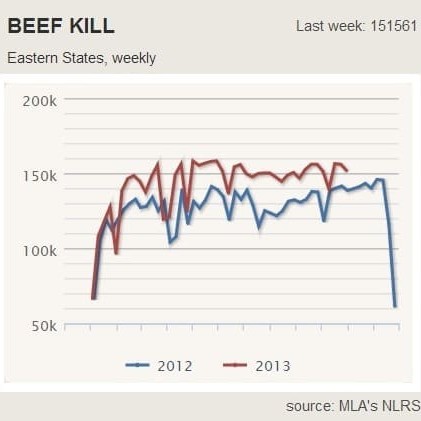 Two or three months ago, analysts were predicting a slide in rates of weekly kill by now, given the frenetic, sustained pace of processing experienced over the preceding eight months, which was supposed to have exhausted supply of killable cattle by now.
But as the graph published here, extracted from Beef Central's 'industry dashboard' graphs on our home-page shows, it hasn't happened yet. There's still a big spread between this year and the equivalent kills a year earlier.
And that is happening despite the trend during 2012 for a very slow start to kills because producers wanted to make the most of the big season and add as much weight to cattle as possible, condensing more of the kill than normal into the second half.
Don't get too excited about an apparent 6pc decline in Queensland's kill last week, to 72,658. Behind that number is the fact that three or four of the state's biggest plants celebrated a Butcher's Picnic holiday last week, which put a somewhat 'artificial' hole in the slaughter trend.
Without those missed days, and Queensland's kill last week would have still been close to, or well into the 80s, contacts said yesterday.
Southern states were largely unchanged last week, with NSW reporting a kill of 38,106 head, down 1pc on a week earlier, while Victoria was +2pc at 27,745 head.
South Australia was the only location to show significant movement, being +7pc at 8995 head, while Tasmania was unchanged at 4057 head.
"The continued desperately dry weather has basically taken any chance of a slowdown in rates of Eastern States kill out of the equation," a large multi-site processor told Beef Central yesterday.
He suggested that the moderately-sized female component in last week's kill (35pc in Queensland, and 42pc in NSW) was probably being masked a little by large numbers of male grainfed cattle now exiting feedlots, as discussed in previous weekly kill summaries.
There has been no substantive change to Southeast Queensland processor grids over the past seven days, as strong inflows of second-wave drought cattle continue to arrive at plants across central, southern and northern parts of the state.
Processor grid price offers from Southeast Queensland yesterday showed the top of the heavy cow grid is currently sitting at 300-305c/kg, with grassfed 0-2 tooth steer at 345c, and four-tooth 340c. The best grassfed MSA steer money we could find yesterday was 360c/kg, and grainfed MSA, 375c.
As reported last week, some Queensland processors have seen a renewed surge in direct bookings, perhaps triggered by more 'decision-making points' being reached in the calendar by droughted producers, and the most recent three month outlook from BOM forecasting drier than average conditions for most of northern Australia from November to January.
Several large Queensland and NSW plants have re-started weekend shifts to cater for the renewed cattle flow, suggesting little is likely to change for the next week or two, at least.
"We're well in front again in bookings on our kills right across eastern Australia," one large multi-site processor told Beef Central yesterday.