A CHINESE investor and local project initiators have signed a Memorandum of Understanding over the development of an export abattoir near Hughenden, on the Flinders Highway in North Queensland.
In a joint statement released this afternoon, local project lobby group NorthBeef Inc and the Flinders Shire Council announed that an MOU had been signed with Chinese investor DSCY (Aust) Investment Pty Ltd over the development of an export beef processing facility.
NorthBeef announced plans to try to float an abattoir project at Hughenden in this article in 2012.
The internet provides little insight into the origins of the financial investor, DSCY (Aust) Investment Pty Ltd, or its director, Ms Miao Wang, simply describing the entity as a Sydney-based import/export business.
NorthBeef's statement said Ms Wang's company would take 100 percent of production from the plant on conditions negotiated with producers through NorthBeef.
Ms Wang said the market for Australian beef in China was very strong, so a consistent quality and supply of beef on long-term supply contracts was the aim.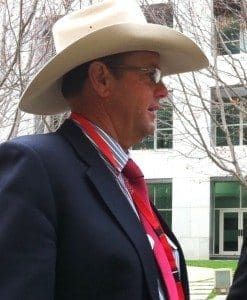 NorthBeef chairman Rob Atkinson (pictured) said the agreement was an exciting development for the northern beef industry, which would offer an alternative market for livestock producers in North West, Central West and North Queensland who currently had vast distances to travel to access processing facilities.
He said in addition to giving producers greater market competition through an additional market competitor, positioning a meat processing facility closer to where cattle were bred would address issues such as transport shrinkage costs, long wait times for slaughter access, and freight costs. A local abattoir would also improve animal welfare outcomes and address long-distance transport issues such as driver fatigue and cross-loading, Mr Atkinson said.
As part of the MOU conditions, NorthBeef said it would have the job of negotiating sound cattle supply agreements with producers and pricing structures, necessary to secure livestock supply of up to 180,000 slaughter cattle each year. The plant would operate on a quarter-beef carcase basis only, with boning happening overseas to suit clients' domestic needs.
Mr Atkinson said the conditions in the MOU meant NorthBeef would have an ongoing decision-making role in the new venture – providing input into the branding of the products, developing an open and transparent business relationship between grazier and processor, and delivering improved returns for producers.
Flinders Shire mayor Cr Greg Jones said his council was fully committed to the project, which would create commercial business opportunities in the area, along with increased job opportunities.
Cr Jones said each party to the agreement was working hard to bring the project to fruition. Flinders Shire Council would provide freehold land for the construction of the meat processing facility and road access, plus power access to the site and a water supply.
The council would also assist the investor with the necessary approval processes. Cr Jones said that Council and NorthBeef had met with the Townsville Port Authority and things were "looking very good" for transporting containerized shipments direct to Asia from Port of Townsville.
Ms Wang said her company was excited to be developing a strong partnership with Flinders Shire Council and NorthBeef, and in particular working with local beef producers to meet their long term aims for the industry. She hoped a successful final agreement could be reached early in 2016.
NorthBeef vice-president Charlie Hawkins said the development would be a "massive help" to the town of Hughenden. It could take two or three years before the site was ready to commence processing, he said.