AUSTRALIAN meat export sales and marketing business Sanger Australia has appointed experienced agribusiness banker and accountant, James Campbell, as its new chief executive officer.
Mr Campbell replaces Graham Greenhalgh, who has led the Sanger business for the past two years. Mr Greenhalgh will take on a newly-created role as director, business development for the recently formed Bindaree Beef Group, of which Sanger Australia is a subsidiary.
The appointments are effective this week.
Originally from Boorowa in NSW, Mr Campbell brings extensive financial and agribusiness experience to the position, having worked for the past four years for ANZ in Shanghai, as the bank's head of agribusiness for China.
His professional career spans accounting and banking, with a specialist focus on agricultural business.
Before relocating to China in 2011, Mr Campbell managed ANZ's institutional agribusiness portfolios in Victoria, Queensland and the Northern Territory, and New South Wales.
Prior to joining ANZ, he held positions at accountancy firm, KPMG in audit and corporate recovery, with primary work undertaken in restructuring and insolvency for corporate agricultural businesses.
Mr Campbell is a chartered accountant, holds a double degree in Commerce (Accounting) and Business Administration from the University of Canberra.
During his time in China he served two terms as a director of the Australian Chamber of Commerce in Shanghai.
"James has a strong grasp of the key challenges and opportunities facing Sanger and Bindaree's customers and a clear vision that aligns with the Sanger executive team," Bindaree Beef Group chairman, JR McDonald said.


"He takes on the chief executive role at an exciting time for Sanger, with a number of major projects underway as the business looks to further specialise in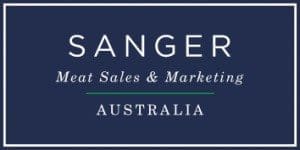 supplying branded meat programs," Mr McDonald said.
Graham Greenhalgh started at Sanger as a trainee in 1987, under the guidance of long-term business partners John Cooper and Richard Rains. During his formative years as a meat trader he took responsibility for the company's veal supply chain and was instrumental in opening the Japanese, Swedish and Canadian veal markets for the company.
He then completed a general trading traineeship with experience covering most major Australian export markets for beef, veal and lamb.
Mr Greenhalgh became a director of Sanger in 1995, before serving as chief operating officer from 2005. In 2013 he became chief executive officer, succeeding Richard Rains.
"Graham has laid a strong foundation for our future growth of which he can be very proud," JR McDonald said.
"With strong family roots in the meat industry and rural Australia, Graham has inspired each employee to share our passion for Australian meat with the world."