Meat processing workers have been included in a priority group to receive COVID vaccinations in Australia immediately after the first round of doses for frontline quarantine, health care and aged care workers are rolled out.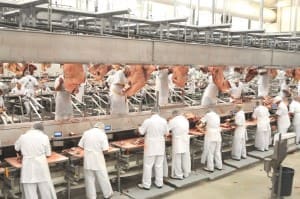 Meat processing workers have been included as critical and high risk workers alongside defence, police, fire and emergency services personnel and will receive the vaccine in phase 1 b of the vaccine roll out.
Phase 1a includes quarantine and border workers, Frontline health care worker sub-groups for prioritisation.
Identified priority groups will get the first available doses that are proven to be safe and effective.
More people will have access to a vaccine as more doses become available throughout 2021.
Australian Meat Industry Council chief executive officer Patrick Hutchinson told Beef Central today the inclusion of meat processing workers in phase 1b followed intensive work and advocacy from the council.
"Meat processing workers are classified as high risk workers with the vaccine rollout," he said.
"We are the first workforce after health and Defence/Emergency Services that will receive the vaccine in the Australian rollout vaccination strategy, classed as 1b."
More details on the national rollout strategy can be found here https://www.health.gov.au/initiatives-and-programs/covid-19-vaccines/getting-vaccinated-for-covid-19/who-will-get-the-vaccines#covid19-vaccine-national-rollout-phases
Mr Hutchinson said AMIC is now working with government departments to clarify the following questions including:
What workers fit into the definition of "meat processing"?
How will the metro and regional hubs work?
Logistical issues of the different vaccines
Opportunity of site vaccinations at facilities
He said AMIC is working with the Federal Government on solutions to the above questions, and praised the response received from staff of Minister Greg Hunt and David Littleproud's offices so far.
"I can't speak highly enough of the support that we have received," he said.
It comes as meat industry groups in other countries also lobby for slaughterhouse workers to be added to priority lists for immediate vaccination against the coronavirus.
"The intensity of the work, carried out in closed quarters and air-conditioned environments, requires action from ministries and the state health departments for the immediate vaccination of the industry's workforce," Brazilian beef lobby Abrafrigo told Reuters.
Abrafrigo estimated the move could benefit some two million people who are directly employed by Brazilian beef, poultry and pork processors.
Last year, the health crisis ravaged Brazilian meat plants, caused some to halt production while the workforce was being tested, and sparked trade bans from top meat importer China.
The virus also swept through US meat processing plants last year, leading to a 40 percent loss of US processing capacity at one point due to restricted operating procedures including distancing, and plant closures.
The US National Acadamy of Sciences estimated as of July last year US livestock plants were associated with 236,000 to 310,000 COVID-19 cases (6 to 8 percent of the national total) and 4300 to 5200 deaths (3 to 4 percent of national COVID death toll in the US at the time).