LEADING food service and value-added meat provider Andrews Meat Industries is set to reduce its energy consumption by more than 20 percent thanks to a major investment in solar energy.
Construction started last month at the Andrews Meats Lidcombe facility in Sydney, with the solar installation being the second within the JBS Australia group.
With the meat industry contributing heavily to the world's carbon emissions, AMI director Harry Andrews said the solar installation was a logical move to reduce the organisation's carbon footprint.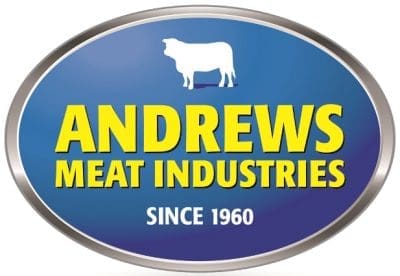 "We are committed to sustainably meeting the needs of our customers domestically and internationally," Mr Andrews said.
"Operating in an industry with increasing and expensive energy usage means we need to take measures to reduce the environmental impact of our operations through sustainable business practices."
Emissions savings total 19,000t/pa
Covering almost 6000 square metres, the installation will reduce the energy consumption at site by more than 20pc, equating to a decrease of more than 19,000 tonnes of emissions per annum.
The 836KW installation will cover around 90pc of the Andrews Meats facility's roof and will generate 1200 Megawatt hours of power per year – enough energy for a car to drive almost 76 million kilometres.
"As we strive to continually improve our resource efficiency and reduce our carbon footprint, the 2300-panel installation will make a considerable impact on our reliance on grid energy usage," Mr Andrews said.
The Andrews Meats solar installation is the second for the JBS Australia Group, following the Primo Foods 3.2MW installation at the Wacol facility in late 2018.
The solar installation for Andrews Meats is in addition to recent sustainability initiatives carried out at the site, including:
Water consumption management through work practices and efficient wash-down equipment
Use of environmentally safe cleaning detergents
Recycling of cardboard and paper products
LED lightening installation – upgrade stage one completed
Reduction of transport movements through greater customer delivery consolidation
Refrigeration plant maintenance to achieving lower electricity and refrigerant consumption.
Todae Solar, the team which constructed the installation last year at Primo's Wacol facility, will be implementing the solar solution at the AMI Lidcombe site.
Aris Hovardas, general manager for sales at Todae Solar, said his company was happy to see an increasing number of food processing facilities offsetting their carbon emissions and reducing their electricity costs through self-generation.
"JBS are leading the way and setting an example for their industry with this latest system, following on from their record-setting Wacol facility in Queensland late last year," Mr Hovardas said.
The Todae Solar company website can be accessed here.