The Eastern States seven-day kill jumped another 1.8 percent or 3000 head last week, driven by a number of factors, including what appears to be much larger numbers of Queensland cattle heading into NSW for slaughter.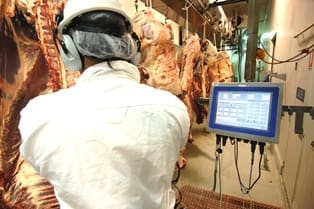 As discussed in last week's weekly kill report, other factors include the rapid and alarming deterioration in forage oats crops across southern Queensland and northern NSW, and the effects of recent cold conditions on winter pasture quality.
Both are forcing another 'mini-wave' of cattle liquidation in late winter, with only limited prospect of rain relief heading into spring.
Last week's Eastern States kill collated by the National Livestock Reporting Service produced a five-state total kill of 170,917 head – the fourth largest weekly tally seen this year – in a cycle which has seen the record books constantly re-written for kill size.
The stand-out feature in Beef Central's opinion, was the size of the NSW kill – an all-time weekly record of 41,836 head, up another 300 on the previous record set back in early July.
Scratch a little deeper though, and there's more than meets the eye.
A considerable portion of that record slaughter tally – one respected market stakeholder suggested as much as 15-20 percent – was probably made up of cattle from north of the border.
Queensland cattle have been flowing into large NSW export plants in increasing quantities recently, driven by two factors – relatively higher prices (attractive, even with the big freight component attached), and sheer availability of slots in kill rosters, which have become increasingly hard to find in Queensland processor rosters, as the year has progressed.
Even without a price advantage, some Queensland vendors appear to be happy to grab the NSW processor slots, just to lighten-off their cattle inventory sooner, as the season further deteriorates.
The alternative, as Beef Central has highlighted recently, has been difficulty in finding slots for slaughter cattle in many Queensland plants for at least 4-6 weeks ahead.
Large Queensland processors spoken to yesterday said they remained heavily committed through August, with some slots available during September, in some cases, due to high demand. Having said that, however, the situation on some regions of the state may be easing. One North Queensland beef producer told Beef Central this morning his booking for cows had been brought forward eight weeks, from its original designated slot.
Principal among the NSW processors operating strongly in Queensland recently has been Hunter Valley Meats' Primo plant near Scone, which has been putting together large lines of cattle, principally cows, out of centres as far north as Longreach and Charters Towers. Some of those have been for the foetal blood market. It hasn't been uncommon to see up to 1000 head of Primo cattle spelling at Roma at any one time, locals say.
Others operating strongly in Queensland include Bindaree, near Inverell and service kill customers of Northern Cooperative Meat Co, Casino.
"They've been dragging a few cattle out of Queensland for a while now, but the numbers have certainly grown," a competent market observer told Beef Central yesterday.
"But they'd have to be tremendously cheap to justify taking cattle out of northern centres all the way back to the Hunter, or Inverell. Those southern plants are obviously production-driven at the moment, looking to maximise throughput, driven hard by the high prices for international grinding beef."
While there does not appear to be a great difference on public grids between what's being offered out of NSW and southeast Queensland grids, deals may be on offer, we hear.
Primo livestock manager Ross Campbell was unable to comment on the company's behalf, when Beef Central approached him this morning, and plant manager Peter Allan was tied up in meetings before today's alert was distributed.
The other key feature of the 'NSW' kill last week was the depth of the female kill, accounting for 54pc of the state's overall seven-day tally – possibly also a record, but again, likely to be heavily influenced by inflows of Queensland females. In contrast, Queensland's own female kill last week reached only 45pc.
Queensland's overall kill of 87,219 head last week was +3pc on the previous week, but up 6pc on this same period last year. Processors noted a 'little bit of a run, again' in terms of direct consignment bookings, for reasons outlined above. Some potential supply customers have said they 'can't wait that long' when told the kills are solidly booked through to late August or early September, and have elected to shop around.
The NSW kill last week was +13pc on a year ago, while Victoria's seven-day kill (29,110 head) was a huge +26pc higher than year-ago figures. South Australia's kill last week, at 8061 head, was +116pc on this time last year, while Tasmania (4697 head) was +16pcv on a year ago.
Grid prices remain unchanged
It's hard to remember a more stable long-term period for southeast Queensland grid pricing than at present.
Many grids have changed little since the short-term adjustment back in early April, following rain, with many offers now virtually unchanged for the past 11 weeks or more
Again, there has been no significant changes evident in southeast Queensland grids over the past seven days.
Sell prices sourced yesterday indicated grassfed four-tooth Jap ox at 320c/kg, 330c for milk and two-tooth, best cow 290c/kg. Grassfed MSA steer for slaughter ex-SEQ has held up relatively strongly, worth 375c/kg in one quote seen this morning, the same as EU grassfed steer suited to the Hilton quota.
A Primo public grid for grassfeds, September delivery seen this week by Beef Central showed export four-tooth YP steer to 335c, export heifers four teeth 325c, eight tooth cow to 300c and boner cow 250c.