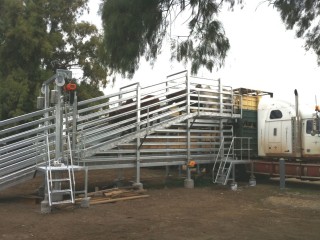 Further solid rises in many direct consignment slaughter cattle rates last week failed to have any significant impact on the weekly kill for the seven days ended Friday.
The general shortage of killable cattle across Eastern Australia was again evident in the Eastern States weekly tally, which rose only 1.2 percent, to 127,502 head.
On top of earlier price rises, another 5-8c/kg lift in a range of process cattle rates in the major processing area of southeast Queensland is yet to be reflected in rates of kill.
JBS lifted cow and ox rates 8c from Wednesday, matching and in some cases going past major competitors. Teys has since lifted rates to match JBS money. The current rate, southern Queensland, for four-tooth grassfed ox is around 340c, 335c for yearling steer and heavy cow 325c, representing a 25-30c rise in cow prices in four weeks.
A softer currency value this week, with the A$ slipping into the US103s during trading this afternoon, is likely to underpin processors' appetite to attract cattle through price, but meat marketing departments still see little joy on the horizon in the major volume markets of Japan, Korea, or the US.
This afternoon's five-state weekly slaughter report issued by NLRS showed Queensland's weekly kill to Friday virtually unchanged at 70,476, up 1pc on last week, but 21pc above a rain-hampered week this time last year. Some large southern Queensland plants operated on only six shifts for the week, down from ten.
Far western, central western and northwestern Queensland cattle continue to flow in numbers this week, in a pattern likely to continue until late spring. AA Co started a big uplift of about 4000 Brunettes and 2000 from Anthony's Lagoon during the past seven days. Processors are anticipating unusually heavy weights in turnoff cattle during spring and early summer, in some cases 20-30kg above normal for this time of year.
Extreme rates for lighter replacement weaner cattle are still deterring finishers from selling cattle earlier, for fear of having to go back into an overheated market for replacements. Many are preferring to retain cattle already on hand and simply add further weight, to escape to bidding wars for young stock.
Slaughter activity in southern states was generally improved last week, with the exception of Tasmania.
Numbers in NSW were up slightly to 32,014 head, although cattle numbers remained light to moderate through some saleyards last week.
Victoria's kill jumped 7pc to 16,390 head, still down 10pc on this time last year as the shortage of stock took effect. South Australia's adult beef kill also lifted 12pc to 7550 with a return to a five day kill after a skipped day at Teys Naracoorte the week previous.
Although not unexpected, Tasmania's kill fell in a big hole, reaching only 975 head, down 54pc for the week, due to a seven-day maintenance closure at Greenham's Smithton plant last week.

The Eastern States Young Cattle Indicator closed yesterday at 403.5c/kg, up 4.5c on the same time last week.