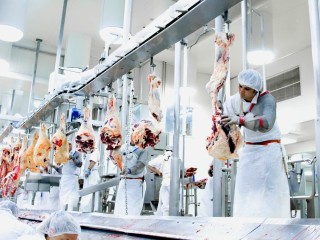 The effect of earlier price rises in many direct consignment slaughter cattle rates helped further consolidate the Eastern states weekly kill for the seven days ended Friday.
However the general shortage of killable cattle in many regions was again evident in the weekly tally compiled by the National Livestock Reporting Service, which rose another 1.5 percent, to 129,227 head.
Major processors tended to sit on cattle price rates established a week earlier, which had produced another 5-8c/kg lift in a range of slaughter cattle.
The Australia dollar appears to have stabilised a little at a level in the US103s during the past week, giving processors some confidence in the market. As is often stated by processors, the only thing worse than a high dollar is an erratic dollar, and recent stability may work in exporters favour in current meat trading activity.
Having said that, processor marketing departments still see little joy on the horizon in the major volume markets of Japan, Korea or the US.
Yesterday afternoon's five-state weekly slaughter report showed Queensland's weekly kill to Friday up 2pc at 71,645 head, up 10pc on a flat period this time last year.
One major processor said yesterday that the current week kill numbers for Queensland might trend downwards a little, based on tightness of supply. Far western, central western and northwestern Queensland cattle continue to supply a platform for kills this week, in a pattern likely to continue until late spring.
He suggested kill rates in Queensland were probably well matched to subdued export demand at present, and any further increases in weekly throughput closer to 75,000 head might destabilise that balance unnecessarily.
In contrast with Queensland, southern states were generally down in rates of kill last week, reasons for which are unclear.
Numbers in NSW were down 2pc to 31,397head, with cattle numbers remaining light to moderate through some saleyards last week.
Victoria's kill also fell 2pc to 16,066 head, a substantial 16pc decline on same time last year as the shortage of local stock took effect. South Australia's adult beef kill was back 6pc to 7112, after a particularly strong kill a week earlier, as some plants caught-up after earlier maintenance closures and skipped days.
Tasmania's kill bounced back spectacularly, lifting 208pc to 3007 head after a seven-day maintenance closure at Greenham's Smithton plant a week prior.
• The NLRS Eastern States Young Cattle Indicator closed yesterday at 402c/kg, no change from Friday and down 1.5c on this time last week. Medium steers (188.2c) and heavy steers (193.2c) were up 3c and 2c for the week, respectively, Medium cows were unchanged at 149.1c.