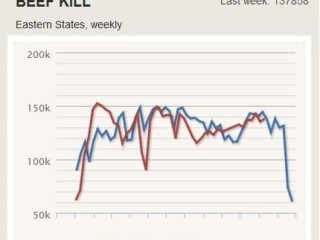 A return to full kills after holiday disruptions in Victoria and Queensland a week earlier saw the Eastern States adult beef processing rate lift almost 2 percent for the week ended Friday.
Last week's kill reported by the National Livestock Reporting Service reached 137,858 head, up from 135,283 for the seven days prior.
Looking at the medium-term trends on Beef Central's weekly kill graph pictured here, taken from the home-page 'industry snapshots', it is evident there has been a fairly consistent recovery in processing numbers since the mid-year low point on July 22 (115,272 head).
That mid-year slump coincided with the worst of the currency rise, when the A$ briefly passed through US110c in late July.
Once again the relative stability of the A$ last week was a positive for exporters, with the currency trading in a relatively narrow 2.4c range for the seven days ended yesterday.
Queensland's kill last week lifted 4pc to 71,479, still down 7pc on the same week last year.
The recent trend towards exceptionally low female numbers in Queensland's kills eased a little last week, with exactly one third (33.3pc) of total meatworks throughput made up of females. That lifted from 30pc and 27.5pc in the two weeks previous.
The final week of October saw a 12-year record set for male cattle throughput in Queensland, at 54,000 head, which helped to offset the continued tight supply of cows for processing. That's being caused by the strong herd retention/rebuilding mood continuing among Queensland producers who are increasingly optimistic about prospects for another solid summer rainfall season.
In New South Wales, the kill tally slipped 1pc for last week to 35,125 head, with females providing 44pc of the activity.
Victoria recovered from its Melbourne Cup Day holiday the previous cycle to register a 4pc rise in processing numbers to 19,203 head – still 10pc below this time last year.
South Australia was +2pc for 8791 head, while Tasmania took a hit due to a Monday holiday in some factories, declining 16pc to 3260 head.
Numbers tightening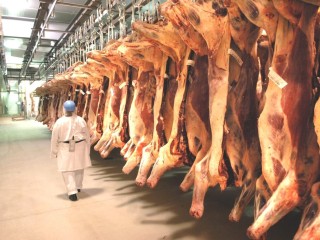 One major multi-site processor livestock contact yesterday said numbers were a little harder to procure last week than earlier, particularly in NSW, where more rain was expected later this week. Another said the onset of hot weather may be signalling that the end of the seasonal turnoff is nearing.
There was a solid lift in saleyard prices across NSW selling centres yesterday, reflecting the tightening trend in supply.
Southeast Queensland grids for JBS showed no significant change for the week ended yesterday in either prime or manufacturing cattle, while Teys Australia lifted its grids north and south 5c on Thursday last week in many categories as numbers became harder to find.
Another factor in NSW was 'harvest mode', where many multi-stream farmer/graziers were concentrating on grain harvest currently, rather than cattle. That cycle often has a pronounced effect on cattle supply in dual-commodity crop/grazing regions (see Beef Central's Friday market wrap-up "Southern buyers forced to dig deep for young cattle"). Very hot weather is only exacerbating that trend, with graingrowers wary of the prospect of storms that could damage crop prospects.
While the same trend may be seen to some extent in southern Queensland, the population of mixed-enterprise beef producers is generally only a fraction of what it is in NSW.
Another emerging influence on export beef demand in coming months could be speculation over the pace of change in the Japanese Government's moves to allow US beef from animals older than 20 months of age back into Japan, after a six-year absence due to BSE concerns.
Some Japanese trade sources say the approval could come as soon as April 1 next year (start of Japan's new financial year), while others say the process will take at least 12 months.
Either way, importers and traders in Japan do not want to get caught with beef from any import source that could be devalued overnight, in the event of a Government announcement on US beef relaxation. One source said that could see currently high imported beef stocks in Japan (+80,000 tonnes) being run-down in coming months in a move to avoid being caught with 'expensive' inventory.
The best possible outcome is some surety over a time-frame from the Japanese Government, so importers and exporters can plan ahead, should a protocol change approval proceed.
While volumes of beef into Japan have been solid (reference "October Japan exports rise 4.8pc") confidence remains subdued, and prices reflect that.
A reliable wholesale beef sector contact yesterday said the domestic market was performing the way it 'typically' did in November: "As slow as the second coming," he said.
That is linked strongly to the pre-Christmas fascination with other species – ham, turkey, chicken – and a general tightening of consumer expenditure heading into Christmas.
His advice to the trade was "not to panic and give meat away", because the cycle would change, come Boxing Day.
"Loin cuts will come good, chucks and blades will obviously hit Japan and Korea, and leaner trimmings are firming strongly into the US." Prices for 90CL grinding beef (375¢/kg FAS average price for October) were 12pc above the same month last year.
"Cash flow will obviously be an issue for many wholesalers, but the trade has to show some fortitude at this stage," he said. "It's always going to be an issue at this time of year, particularly as supermarkets decide that it's all about chicken, pork and ham."
"If the processing sector had been killing anywhere near full capacity over the past three or four months, the wholesale beef market now would be in a lot worse shape than it is. While big factories like JBS Dinmore have been doing nine shifts a week, that's 9/28 instead of 9/33 or 34, effectively slipping a shift each week."
"Restraint in killing numbers has helped preserve the domestic wholesale market this year, in the face of subdued demand in the major markets like Japan and the US."
The NLRS Eastern States Young Cattle Indicator closed yesterday at 404.75c/kg, up 3.5c from a week earlier. The heavy steer indicator (195.1c) was +3c, and medium cows (147.2c) +1c on a week ago.