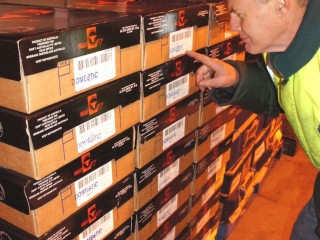 Wet weather and a shortage of killable cattle in southern states combined with public holiday disruptions in southern Queensland saw the eastern states weekly cattle kill ease a little last week, after a month of gradual gains.
Numbers processed for the seven-day cycle ended Friday, August 19 reached 122,826 head, down about 2.8pc on the week previous, according to data released this afternoon by NLRS.
As predicted a week earlier in Beef Central, Queensland's kill eased 4pc last week to 64,778 head due to annual show holiday breaks in several large export and domestic plants in the state's southeast. Queensland's kill remains well behind last year on a week-to-week basis, still down 15pc on this time in 2010.
Most Queensland plants look like completing all scheduled shifts this week, although Kilcoy Pastoral Co has dropped weekend shifts, and Warwick Bacon is taking a killing break, scheduled to last a fortnight.
Slaughter activity in southern states was patchy again last week. Cold and wet conditions in some areas influenced cattle movements.
Numbers in NSW, the second largest processing state, were well back, declining by 7pc to 31,927 head. Contributing to this was a short closure at EC Throsby's plant at Singleton in the Hunter Valley, plus wet weather later in the week as a front moved through. Cattle numbers, generally, are light in NSW at present, with only 400 yarded at Tamworth sale today.
Victoria's kill improved 1pc to 16,534 head, on par with same week last year. Nippon's Wingham plant reduced staffing levels and rates of kill recently and there have also been reduced kills recently at Cargill, Wagga, not far over the border.
South Australia's kill of 7050 is the highest in at least five weeks, 32pc above a week earlier, following the full return to work of Teys Naracoorte after an extended layoff during the slow season to install new rendering facilities.
Tasmania was back 14pc to 2537 head.
Despite this week's minor setback, momentum appears to be slowly rebuilding in national beef slaughter rates, after a 10-week slump driven by easing in the value of the A$, flat international demand and earlier beef surplus in cold storage.
5c rise tipped for OTH rates
With the A$ settling in the US103's over the past few days, taking a little of the pressure off exporters, contacts say there is a strong prospect that some direct-to-works slaughter rates might lift another 5c/kg – possibly as soon as tomorrow. That comes on top of 10c/kg average rises seen in the past three weeks through JBS, Teys and Nippon for a wide range of slaughter-ready stock.
An accumulated 10-15c rise since late July might begin to flush more killable cattle onto the market in coming weeks.
Apart from an upcoming Melbourne Cup holiday in Victoria, there are few holiday disruptions on the horizon now in the four-month processing run through to Christmas. Expect to see some increases in rates of kill across all three major eastern states as conditions start to warm up, as a result.
There is also an elevated sense of 'cautious optimism' evident in the trade, with further evidence that the large backlog of beef held in cold storage since June is starting to clear in earnest, and some interest emerging from customers in Japan and Korea.
The Eastern States Young Cattle Indicator closed yesterday at 387.25c, leaping 13c on the same time last week.
Beef Central would like to make a minor adjustment to comments in last week's weekly kill report discussing changes to payment terms made by JBS Australia, now operating under 14-day terms. It has been brought to our attention that Teys' payment terms are not technically 10 days. Teys pays livestock suppliers once-weekly, meaning that with weekend cycles included, payments effectively range from 5 to 11 days.