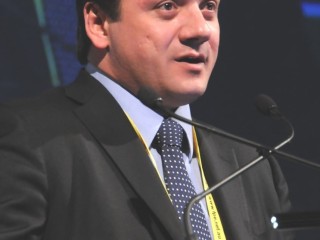 THE world's largest animal protein processor, JBS SA has reported a first quarter profit increase of 48 percent over the same period in 2010, based on higher sales in Brazil and the US.
The Sao Paulo-based company reported a net profit of US$91.8 million compared with US$61.2m for the same quarter last year, as sales rose 20pc to US$9 billion.
JBS SA is the parent company of JBS Australia, which reports under the company's US division.
US industry analyst Steve Kay, publisher of the influential Cattle Buyers Weekly said it was not surprising that JBS saw exports as the company's key profit driver in 2011 and beyond. That was especially so for JBS's US protein business, said president and CEO Wesley Batista, pictured left.
JBS was leveraging the knowledge it had of a lot of markets that the US business was not previously exporting to, Mr Batista said. That diversification into new markets helped JBS USA Beef (which includes Australia) report record pre-tax earnings in the first quarter ended March 27.
The company's US beef operations had pre-tax earnings of US$269.7m, 58.2pc higher than a year earlier and 38pc up from the December quarter. JBS USA Beef in the quarter saw exports increase 57pc in value and 28pc in volume from the year earlier quarter, CBW reported.
JBS was quite bullish on the global demand for proteins mid and long-term, Mr Batista told CBW. "Regarding beef, the world is not increasing its production but there is more demand from emerging markets. So beef prices will keep going up," he said.
The weakness of the US$ was making the US protein business more and more competitive, Mr Batista said. It would allow JBS to keep delivering good results and better returns on capital.
JBS expects its performance for all of 2011 to exceed that of last year, CBW reported. Mr Batista believed that US beef and pork margins would run at quite a different level than they did five to ten years ago. Supply and demand was pretty balanced in both proteins, he said.
Parent company, JBS SA had overall export sales worth $2.45b in the first quarter 17pc higher than in the previous quarter. A breakdown of exports by value showed that JBS had at least 11 countries or regions that represented more than 1pc of its exports in the quarter.
Big growth in Korea
The breakdown also reveals that while Africa/Middle East and Mexico were JBS's two largest export markets in both the first and fourth quarters, South Korea in the first quarter became a much more important export market. It took 10pc of all JBS's exports, versus 4.7pc in the December quarter.
Exports helped JBS SA increase its revenue 20.2pc in the quarter from a year earlier to 14.673 billion Brazilian Reais.
JBS USA Beef in the quarter had revenues of $3.793b, up 34pc from a year earlier. Cattle slaughter was 2.003 million head, up 6.5pc. The results reflected JBS's focus on productivity and operational efficiencies implemented over the past years, CBW reported.
The diversification of exports also improved the results. Export revenues totalled $1.019b, which was nearly 27pc of total revenue. The average export selling price in the quarter was up 22pc on a year earlier to $3.63/kg. This comparison reinforces how important exports currently are to JBS USA Beef and to the US industry generally, say analysts.