IN THE latest development in Brazilian meat packer JBS's annus horribilis* 2017 year, the company has closed seven of its Brazilian meat plants in the major cattle producing state of Mato Grosso do Sul.
The move follows a court-ordered asset freeze affected its operations in Brazil's second largest cattle-producing state, the company told Brazilian media on Wednesday.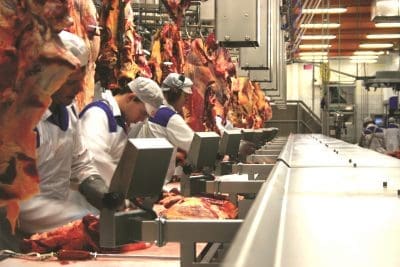 The world's largest meat company said the plants would stay closed indefinitely.
The assets were blocked following a request of a Parliamentary Commission of Inquiry on Tax Irregularities organised by state legislators in Mato Grosso do Sul.
The commission was installed after former CEO Wesley Batista revealed in his plea bargain testimony to prosecutors earlier this year that false invoices were used to justify the outflow of money to pay bribes to politicians in Mato Grosso do Sul state in exchange for tax incentives.
The asset freeze affects JBS SA and the group's holding company J&F Investimentos, Reuters reported.
Shares of JBS fell by 3.6 percent during the day following news of the plant closures, but recovered somewhat later.
The company, whose largest shareholders Wesley and Joesley Batista remain in jail pending corruption and insider trading charges, said a combined 730 million reais (A$294 million) had been frozen by the court.
JBS said it was working to restore operations and maintain 15,000 jobs impacted by the closures. In a statement it said it will continue paying employees as normal, "until the company has a definition on the subject."
The state's cattle ranchers association said there would be oversupply in the state as other meatpackers in Mato Grosso do Sul were not big enough to purchase the available livestock normally slaughtered at the seven JBS plants.
The extent of the closures, being in an important Brazilian beef producing region, are also likely to impact Brazil's overall ability to export beef, some analysts said.
Brothers Wesley and Joesley Batista, the largest shareholders in JBS, were arrested last month in connection with insider trading and other offenses related to their plea deal. Wesley, the elder of the brothers and also JBS's former chief executive, quit his position and has been replaced by his father José Batista Sobrinho.
Public float called off
In other company developments this week, JBS has cancelled its planned $1 billion US public float of processed food subsidiary JBS Foods International, in the wake of this year's dramatic developments.
JBS first announced plans for a US float of the processed foods division last December. It reaffirmed plans to list the subsidiary in August, saying a transaction could take place by the end of next year, Reuters reported.
The transaction was seen as a way to help decouple JBS's businesses from Brazil, where the ongoing reputational issues have impaired share performance for the past few months.
Reuters reported in May, shortly after the food safety and corruption scandals emerged, that JBS would press ahead with the $1 billion IPO plan despite dwindling investor confidence.
Both Batista brothers will face trial for carrying out stock and foreign exchange transactions based on knowledge of their plea deal, a Brazilian federal court confirmed on Monday.
* Annus horribilis is a Latin phrase, meaning "horrible year." It is complementary to annus mirabilis, which means "wonderful year"; however, annus mirabilis is a traditional term, while annus horribilis is of relatively recent coinage.