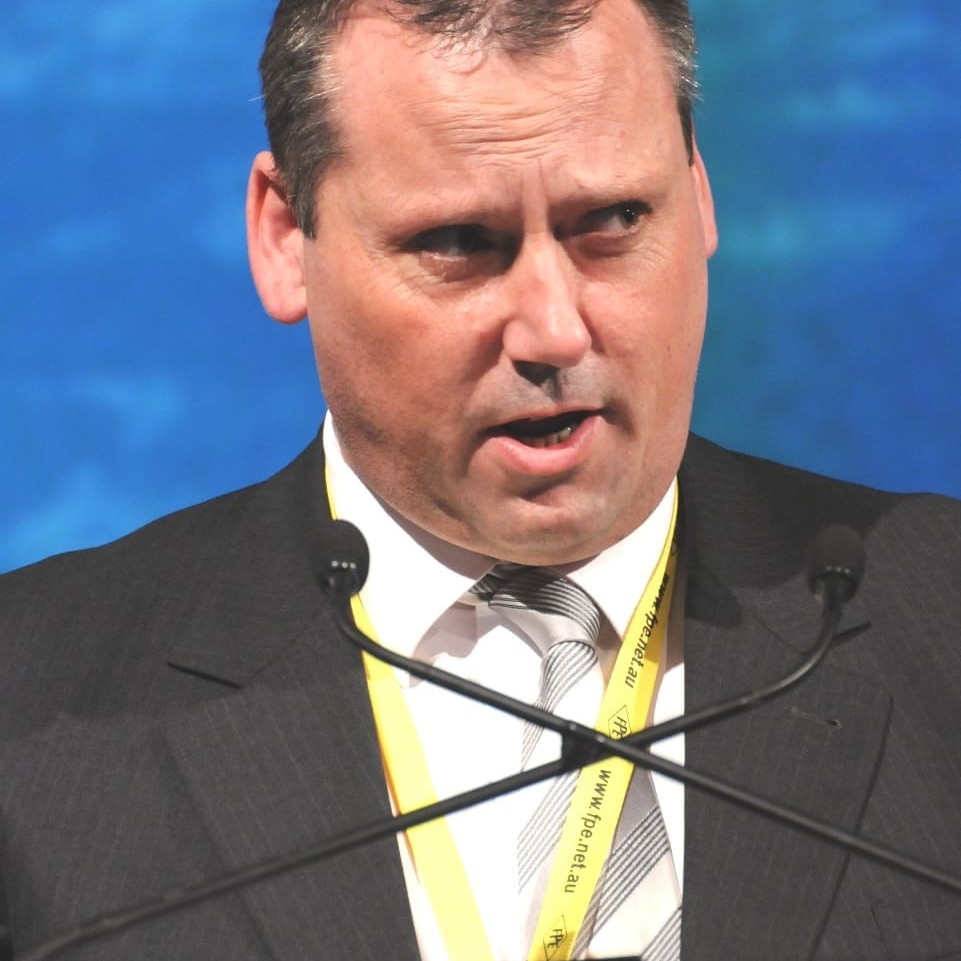 Driving international competitiveness through productivity and efficiency improvement is a key priority for a new processing industry leader elected during meetings in Brisbane yesterday.
Victorian-based processor and exporter David Larkin was yesterday elected chairman of the Australian Meat Industry Council's derivatives, the National Export Beef Council and the Australian Processor Council. Mr Larkin will also take a seat on the AMIC board.
His election comes about in advance of this year's annual general meetings because of a change in circumstances for former chairman of both councils, Gary Burridge.
As discussed in Beef Central's February article, "New CEO for Casino plant," Mr Burridge recently retired after 18 years running the Northern Cooperative Meat Co plant at Casino, to take up a senior position and board responsibilities with T&R Pastoral.
T&R already had an effective and longstanding representative on the AMIC's various councils in Brian James, and under the organisation's rules, only one company representative is permitted on each. In addition, Mr Burridge's engineering expertise means that since joining T&R in April, he will be heavily committed to the company's plant development program on a day-to-day basis, leaving little time for industry affairs.
For those who are not familiar with him, David Larkin is managing director of Atron Enterprises, a large non-packer exporter and domestic market supplier, using a large service kill conducted at NCMC's Casino plant, and a second kill at Caboolture in southern Queensland. Well-known Atron commercial beef brands in metropolitan wholesale and export markets include Condabri, Brenton, Spring Grove, Premi-Yum, The Station and Lonsdale.
A butcher and smallgoods-manufacturer by trade, Mr Larkin has worked in the meat industry for the past 25 years. He has spent the past five or six years as deputy chair of the National Export Beef Council.
Some industry stakeholders have earmarked Mr Larkin as a potential reformer in the management and construct of industry affairs, although he shies away from such tags.
"But there's no doubting that the industry has some considerable challenges in front of it," he said.
"One of the things that any appointed leader needs to do is to meet those challenges and gather together a team to deliver on that. That sometimes means change. In some ways, I may be the first of the next generation to do that," he said, making references to his predecessors like Gary Burridge and Alan Teys.
Competitiveness in processing on the world stage, consistency of supply, the impacts of the Federal Government's looming carbon tax due to be implemented from July 1, and cost of processing generally were all issues of great importance to processors currently.
"But perhaps our single biggest and most crucial priority will be market access," Mr Larkin said.
"Without customers, none of us have a business. As processors, we're at the pointy-end of Australia Inc, and we deal with Australia Inc's customers – but emerging and maintaining market access is paramount to this industry."
AMIC had developed into a strong and unified organisation that represented post-farm-gate interests in the meat industry very effectively, he said.
"But the Government needs to understand that the red meat processing industry is Australia's single biggest employer in the manufacturing sector – bigger even than the car or textiles industries. We employ large numbers of everyday Australians, and often in regional areas. The health and vitality of the Australian meat industry is absolutely paramount to the broader economy, and the Government needs to remember that in its decision-making, in areas like meat inspection charges and carbon," he said.
Mr Larkin paid tribute to Mr Burridge for the outstanding job he had done in representing the processing sector in industry affairs, particularly as chairman of the NEBC and APC over the past seven years. Mr Burridge will continue to chair the industry's Meat Inspection Task Force, and contribute at committee level.
During yesterday's council meetings, an independent membership fee structure report commissioned by AMIC and conducted by industry consultant and former AMLC managing director Dr Bruce Standen was tabled for discussion.