The 2021 Australian Intercollegiate Meat Judging Association's (ICMJ) Northern Beef Conference has begun with more than 80 attendees arriving in Rockhampton for four days of action.
The second annual conference was postponed last year due to COVID, but the delay has only grown the enthusiasm of organisers and attendees for the professional development and networking opportunity.
The event is offering the attendees the chance to participate in a wide range of meat science and beef quality presentations, including the breakdown of a carcase and discussions around the immense variety of careers available in the red meat sector.
ICMJ Northern Committee chair and Teys Australia's General Manger of Operations in Biloela, Ethan Mooney, said the event was already shaping up to be an exciting one for both students and businesses in attendance.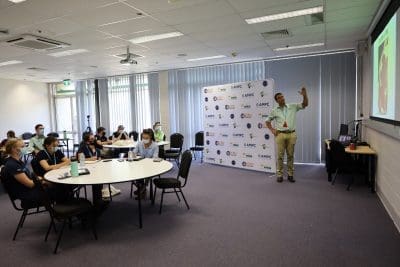 "Today, for example, delegates have worked in small groups to not only understand the end product, which is the retail cuts, but to delve into the genetic background to that product through a session from Roma-based Beef Extension Officer, Tim Emery from Tropical Beef Technology Services," Mr Mooney said.
"These skills, along with meat cut identification and judging, are critical for the future leaders of the red meat sector and that's why we are working on them here.
"We're also broadening the networks of delegates at our industry expo tonight, which is a big-ticket opportunity for attendees at ICMJ events to meet the operators of some of the biggest players in the northern beef sector and explore career opportunities."
Other exciting presentations on the first day included an update on current red meat market trends with Josh Anderson from Meat & Livestock Australia (MLA), insight into vertically integrated value chains with Paul Gibson from Australian Country Choice (ACC) and a discussion around genomic selection for eating quality with Dr Karen Schutt from Neogen Australasia.
The ICMJ Association is a not-for-profit organisation with a mission to 'Inspire and develop future professionals in the global red meat industry'.
The Australian ICMJ program has a long and successful history of attracting graduates to careers in the red meat industry and the Northern Conference has been designed to develop and retain existing talent in the industry.
The ICMJ Northern Conference is co-hosted by CQUniversity (CQU) and Teys and sponsored by Meat and Livestock Australia (MLA) and the Australian Meat Processor Corporation (AMPC).
Source: CQ University/ICMJ