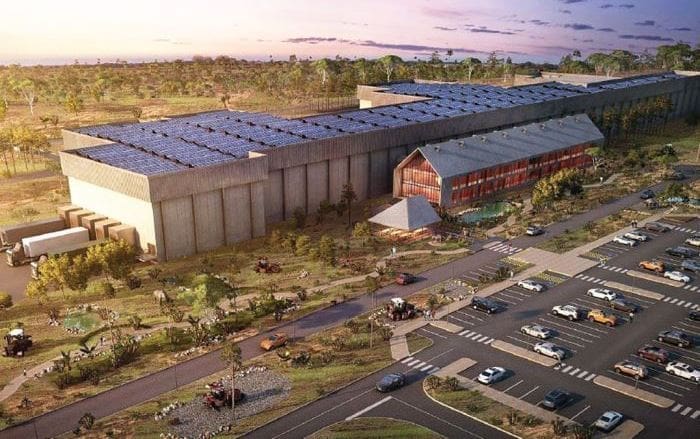 Updated 30 September
AN AMBITIOUS new greenfield export abattoir project has been floated for the Gladstone region in coastal Central Queensland.
If it goes ahead as planned, the first stage of the project would see the construction of a facility capable of processing 600 head per day in a single shift, with the ultimate aim to process 2400 head per day under multi-shifts, seven days a week.
The proposed project, to be built by the Asia Pacific Agri-corp in the Gladstone State Development Area (SDA), claims it would be the first of its kind in Australia, if constructed – integrating meat processing with solar, hydrogen and methane capture renewable energy projects.
Queensland's independent coordinator-general has approved the development application for the $308 million project, a state government statement said yesterday.
The Gladstone facility is the latest in a long line of meat processing projects proposed across Queensland over the past three or four years. None have yet entered construction stage. There has been no disclosure yet about financial backing for the Asia Pacific Agri-corp project, or indeed whether finance has been secured.
The development approval also provides for 95ha of solar panels, capable of generating 78 MW of electricity or almost one third of the site's total estimated electricity needs. A further energy efficiency measure includes the development of an on-site 33mw hydrogen plant to service the abattoir's boilers, and methane capture systems for energy generation.
In a statement issued yesterday, Queensland state development, manufacturing, infrastructure and planning minister Cameron Dick said if developed to fully operational capacity, the facility would be capable of processing 2400 head of cattle per day.
Meat produced at the site was proposed for the export industry, and was not intended to impact the local supply chain, the project's backers said. China was the likely primary market, although the facility, if it is built, would be designed to suit all international standards, including the European Union.
Yesterday's statement said Asia Pacific Agri-Corp would next undertake detailed design work prior to starting construction. Construction is expected to commence around May 2019 subject to subsequent approvals and the facility is anticipated to be operational by 2021.
Some secondary approvals were required for the project to commence, including approval for operational works by Gladstone Regional Council and Environmental Authority permits from the Department of Environment and Science for the meat processing and irrigation activities on-site.
Minister for Agricultural Industry Development Mark Furner said the development stood to benefit local farmers.
"The abattoir, processing, packing and export facility is proposed to incorporate the latest and most advanced technologies used in meat processing plants, including the incorporation of robotic systems," he said.
"These technologies will enable the Asia Pacific Agri-corp to adopt an innovative paddock to market supply chain arrangements, sourcing cattle directly from farmers and tracing product to the market."
A town planning report submitted earlier to Gladstone Regional Council proposes the construction of an abattoir, processing and renewable energy facility on a site on Mt Larcom Station at nearby Aldoga.
The development proposal included a number of components:
A 2400 head per day (at peak) abattoir facility
Associated beef and hide processing plants, packing, freezing and storage rooms together with ancillary service areas
Holding pens with capacity for 4500 head of cattle (a feedlot is not part of the proposal)
Bio-gas plant and hydrogen generation plant
Renewable energy facility (Solar Farm) providing power for the proposed abattoir and processing plant
Road upgrades and other infrastructure requirements.
"Once constructed and operational, APAC will have 2400 head per day operation capacity (at peak) utilising the latest state-of-the-art automation technologies and an operational personnel base of approximately 335 staff," the submission said.
While 600 head throughout per shift will be the target for initial start-up, the process design considers a first stage with a daily production of 788 head maximum on a 7.5 hour one shift basis, and a final stage with a final daily production of 2400 head on a 14.5 hour two shift basis.
Timing of expansion to 2400 head per day would be dependent on stock supply and market demand but could occur within five years of operation the submission said.
The solar energy component of the proposal is intended to provide power to all on-site operations. Both the biogas and hydrogen plants also offered alternative energy sources. The addition of large scale battery storage would assist in facilitating a higher renewable energy utilisation. A gas pipeline is located immediately to the west of the site and preliminary inquiries have determined that there is a suitable let-down station 4.8km to the north-west of the proposed development. Gas is predominantly used for boiler fuel for heat generation.
Representing the developers, Asia Pacific Agricorp (Projects) Pty Ltd, at the formal pre-lodgement meeting with Gladstone Regional Council were managing director Dan Daly and Dr Bixia Xu. Another project partner is Leo Neil-Ballentine, a beef producer from Calliope, south of Gladstone.
The project backers propose to slaughter cattle with an average liveweight of 500kg, producing both bone-in carcase and quartet beef, and chilled and frozen boxed beef for export. Production would be Halal compliant.
A meatworks was originlly built in Gladstone in the 1890s, owned and operated at one time by the state government under the Queensland Abattoir Corporation.