GRIDS for southeast Queensland beef kills in coming weeks have typically risen another 10c/kg this week, hitting new records as processors struggle to maintain price parity with the recent lunge in saleyards markets.
It's not at all uncommon for saleyards to lead the charge on upwards price adjustments after rain, with over-the-hooks grids gradually being adjusted to suit the new supply-demand dynamic. But what is surprising is just how large some of those price contrasts over direct consignment have been recently.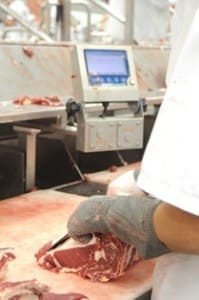 Processors know that on a rising market like this, if they do not keep the price differential between direct and saleyards channels 'within reach' (net, after all associated saleyards costs are factored in), it will simply be reflected in more cattle being directed down the saleyards route the following week.
It's worth stressing again that the recent sequence of slaughter and saleyards cattle price rises do not reflect any semblance of additional revenue on the meat sales side. It is purely driven by supply, or the lack of it.
Southeast Queensland grids seen this morning show up to 570c/kg on offer on the benchmark four-tooth grassfed heavy steer, and as much as 525c/kg on heavy cows this week. This time last month, the same steer was still worth only 520c/kg, and the heavy cow 475c. That's a 50c/kg rise on both descriptions, in just four weeks.
Despite that, there's still some big gaps between saleyards and grids at present. Best grassfed ox at Toowoomba fat sale yesterday were quoted at an incredible 640c/kg, on-leg, and sales further south this week have been even dearer, in places. A pen of heavy black heifers at Wagga yesterday were quoted at 720c/kg, on-leg.
In today's (Tuesday's) markets, the yards are still perhaps 30-50c/kg above the grids on price on cows and steers, but how long that lasts is anybody's guess. It's not uncommon for direct consignment to be off the pace by 10 or perhaps even 15c for a short period on a rising market before adjustment, but current differentials with yards are arguably the largest ever witnessed in the Australian cattle market.
The stark contrast being seen is that in a normal slaughter year, most processor livestock managers in the last few days of June would have their kills for the first three weeks of July already full, or very close to it. But the fact is, this year, most would accept a booking for a kill in tomorrow's shift, if they could get it.
The desperation is palpable. Many plants are unable to give a clear indication of kill days and shifts likely for this week, but most conceded that dark days are again a strong possibility. Central and North Queensland plants may be faring a little better in that department, with a few more numbers on the books. At times like this, the bigger a plant is, the more of a liability it is in trying to maintain rates of throughput.
As outlined in this morning's separate feedlot trading budget story, despite the absolute price bonanza on offer for cattle, it is having zero effect in flushing more cattle onto the slaughter market. The eastern states tally for the week just finished fell well-short of 130,000 head.
Many Queensland and northern beef processing plants this week are again operating on four or even three day shifts, and minimum tallies per shift.
So where does the supply chain go from here, given current market dynamics?
It probably comes down to just how determined individual processors are to maintain long-term beef product market relationships, and at what financial cost.
Sure, processors have had two exceptional profit years in 2014 and 2015, arguably giving them a handy nest-egg to ride out, and fight through the current cycle. But it's equally worth remembering that profitability was exceptionally poor during the two very wet years prior to that, when beef kills slipped dramatically, and currency did not work in exporters' favour.
There's some tough decisions to be made by processors in coming weeks. Many are already operating at only four days a week, and some less than that – despite paying stratospheric prices for slaughter cattle.
The big question: What strategy are processors going to deploy, going forward? Closures, and rationalisations among multi-site processors, are absolutely on the cards, in Beef Central's opinion, given the current financial climate.
There will inevitably be a tipping-point, and it could be devastating for those smaller regional communities where the local meat processor is inevitably the largest employer in the region.
Beef Central believes such closures are as close as a month away, two at most.
The NLRS Eastern States kill report was late this week, not arriving in time for incorporation into this report. It showed a five-state kill to Friday of 129,028 head, with Queensland's kill -9pc at 65,837 head, and NSW +12pc (impacted by a public holiday the week prior) to 28,568 head. Victoria was +15pc (also artificially boosted by an earlier holiday) at 23,138 head; South Australia +6pc to 6764 head; and Tasmania +27pc to 4721 head, as conditions dry out after earlier rain.