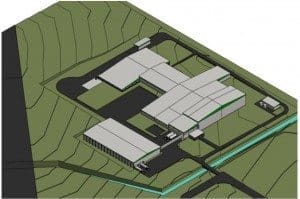 Toowoomba construction company FK Gardner and Sons (FKG) says plans to construct an $80m abattoir near the city are progressing well, with construction planned to commence in mid-2016.
In April the group revealed plans to build a new abattoir and milk factory on a greenfield site at Charlton on the western outskirts of Toowoomba.
The location is within 5km of the recently constructed Wellcamp Airport, which provides a future local gateway for air-freighted agricultural exports from the region.
The group has previously explained that the new facility will not be like a traditional meat processing facility with external yards and settlement ponds, but will be fully enclosed within a 20,000 square metre building.
The plant will have a planned slaughter capacity of 10,000 head per week.
Group Manager of Property Development with FKG, Dallas Hunter, told Beef Central this week the group lodged Material Change of Use Application with Toowoomba Regional Council and Environmentally Relevant Activities documentation with the State Referral Agency in April.
He said the company is now answering Toowoomba Regional Council and Department of Environment and Heritage Protection Information Requests and expects formal approval for the project in about two to three months.
"We will have about six months of detailed design, and hope to start construction in mid-2016 on a 14 month build," Mr Hunter said.
He told Beef Central the facility will cover all processing operations from slaughtering and boning to rendering and packing. The packing operation will have the option of retail ready preparation and packing.
The plant will effectively be a 100% service kill operation. FKG will not own any cattle or beef itself.
FKG has previously stated that it will operate the facility with a commercial partner.
Asked who that was, Mr Hunter said FKG will disclose its partner, operator and customer before construction commences.