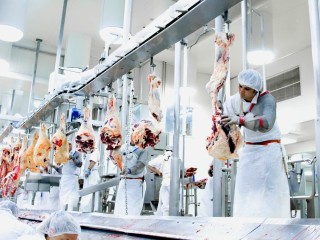 Relief in the form of a lower A$, mildly encouraging demand signals from overseas customers and positive signs of clearance in the stockpile of beef in cold storage delivered a solid jump in processing activity last week.
Although the previous seven-day cycle was hampered by wet weather and some public holiday disruptions, last week's kill was still a solid 4.4 percent higher, suggesting a return to more typical spring kills may be approaching. There's one big proviso, however: availability of slaughter cattle numbers.
Numbers processed across Eastern States for the seven-day cycle ended Friday, August 26 reached 128,464 head according to data released yesterday afternoon by NLRS.
Queensland's kill showed an encouraging 8pc rise on the previous week to 69,969 head, reaching an important psychological milestone in being 2pc higher than the same week last year.
Major Queensland plants plan to complete all scheduled shifts again this week, staff say.
Slaughter activity in southern states was also much improved after a patchy period seven days earlier due to wet conditions limiting cattle movements.
Numbers in NSW lifted 2pc to 32,431 head, as major plants returned to normal shifts, although cattle numbers remained light through saleyards like Gunnedah and CTLX last week.
Victoria's kill was basically unchanged at 16,456 head, still 2pc below this time last year due to reduced kills and/or staffing levels at several plants including Nippon Wingham.
South Australia's kill of 7726 again lifted substantially, up 10pc on the previous week after some very low kills due to plant maintenance and upgrades.
Tasmania's very modest kill of 1882 head last week was back 26pc, on top of a 14pc fall a week earlier. Seasonal plant closures are the main reason. JBS Australia's King Island factory closed for maintenance last week, after processing only about 550 head the week before. The JBS Longford facility had a tally of only 600-700 for the week, while Greenhams Smithton killed 1100.
One of the best grass-growing seasons in memory in Tasmania has made killable cattle very difficult to procure, and to make matters worse there are very few replacements around.
Greenham's Smithton plant plans to close for a week's maintenance next week, suggesting Tasmanian tallies will slump further in the short-term, before recovering.
With the A$ settling at US103-104c for much of last week, processors lifted over-the-hooks rates for a second time last Tuesday, opening up supply for kills later in the week. The currency has since jumped into the 106's again, which may test processor enthusiasm.
Beef stockpile now clearing
Another encouraging sign has been evidence that the big backlog of beef that has built-up in cold storage over the past three months has now largely cleared. Stocks rose rapidly on the back of listless demand out of Japan, Korea and the US during some big kill weeks in June and July, and the flat domestic economy did not help lift Australian consumers' appetite for the volumes of low-priced, export-diverted beef available.
A large meat wholesaler with sales presence in NSW, Victoria and Queensland said the stockpile was a serious handbrake on the market at its worst, particularly on traditional grilling cuts like rumps, cube rolls and striploins.
The build-up of export rumps, particularly, was probably unprecedented, as export orders were cancelled, leading to processors skipping shifts or closing plants for full-week cycles.
Positive signs include cuts like knuckles, topsides and outsides which have lifted 10-15pc in places in the market in the past ten days, indicating fair demand into Korea, Japan and Southeast Asia.
Apart from some May-packed striploins which were still clearing, material being seen in the market now was basically all 'new meat', the wholesaler said, with little evidence of chilled beef packed and stored during the product build-up in cold stores.
"The only frightening aspect is, if the rates of kill continue to climb as they now appear to be, without a corresponding lift in overall demand in overseas markets, we could very rapidly see the surplus situation re-emerge," Beef Central's wholesaler contact said.
"Processors need higher throughput to approach profitability, but the flipside is that they could again oversupply the market, if they aren't careful," he said.
"Domestic demand is only just OK, and is in no shape to absorb large quantities of beef diverted off the export stage. We are probably still 10-15pc off where we would like to be in sales terms, and typically see a fair trading week followed by a very soft week."
Sales of budget meat and lamb, particularly, had been very light over the past fortnight. Price had been the big driver away from lamb, with pork being the big winner.
Major retailers continue to try to win market share in a tight market, with Woolworths running 'half-priced' yearling grainfed rump specials at$13/kg this week.
Clear evidence of the tough times that continue in the processing industry were seen at last week's Australian Meat Industry Council export conference, where only 18 separate meat companies were represented on the ground this year – an unusually low figure. One of the nation's top five processors had only a token staff representation at the conference, partly as a cost-saving measure.
Export trade contacts say they were definitely seeing a few more meat orders being placed last week, due in part to the lower A$, helping relieve some of the market pressure.
"But the truth is Queensland's weekly kill should currently be around 75,000 head, not in the 60s, so low supply and production rate is also contributing to the relief of pressure. But big processors can't afford to kill at such low rates forever, it is not sustainable," a trade contact said.
Debate still circulates about how the supply of cattle is likely to pan out for the balance of the year.
One school says there will be a flush of heavy cattle in the run through to Christmas, held-back from processing earlier due to the abundance of grass and lower meatworks rates.
Another camp says killable cattle basically aren't there – a reflection of the footprint of the 2008-09 drought which saw major disruptions to beef and calf production from the Barkly Tableland to southern Victoria.
Whatever the outcome in terms of cattle supply in the next four months, it now appears that any flow of cattle out of northern Australia due to live export disruptions will be easily absorbed within the Eastern and southern processing system over the next 12 month cycle.
The Eastern States Young Cattle Indicator closed yesterday at 391.75c, up 4.5c on the same time last week, and a very significant 17.5c rise in a fortnight.