The Australian Meat Industry Council has this week moved to distance the meat processing industry from Victorian media reports alleging the meat industry was a 'responsible party' in the transmission of coronavirus in the state. The comments came as Victorian Premier Daniel Andrews warned that entire industries could be shut down in the state if people continued to go to work with COVID symptoms.
"This is a public health issue and a community-transmitted virus, not a meat industry or food safety issue," AMIC chief executive Patrick Hutchinson said in a statement issued this afternoon.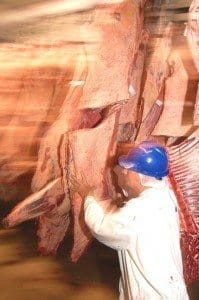 "There has been an over-emphasis of COVID cases being linked to the Australian meat industry, yet the virus is being transmitted in the community, not generated from within any particular industry," he said.
The Australian meat industry had extremely controlled measures in place, and should not be viewed through the same lens as meat industries in other countries, Mr Hutchinson said.
"The actual percentage of staff that make up the total amount of cases within a "cluster" linked to a meat processing facility is small relative to total community transmissions – in some cases less than 3pc, across our red meat and smallgoods members," he said.
From as early as January 2020, AMIC had started implementing robust risk management guidelines, to incorporate COVID-19 safety plans and measures, for the industry's total supply chain and independent retail network.
"The meat industry is uniquely positioned as one of the premier industries where food safety and hygiene is part of our core business," Mr Hutchinson said.
"Our members operate to very stringent standards including HACCP, Good Manufacturing Practice, and Australian Standards, which are verified by state and federal food safety authorities. As an essential service, our industry has continued to operate across the entire supply chain during the coronavirus pandemic, knowing that the supply of food is our community's most basic need and this has been reflected in increased sales of red meat during the pandemic."
AMIC said it had noted negative reporting by media agencies recently, particularly in Victoria, and disputed any commentary alleging the meat industry as being a responsible party in the transmission of coronavirus, due to recent cases being brought into processing plants in Victoria.
"Australia's Food Standards agency (FSANZ) and well-respected international agencies including the European Food Safety Authority (EFSA), and World Health Organisation (WHO) have publicly stated that there is no evidence to suggest that coronavirus is transmitted in food, and no reported cases from human contact with food," Mr Hutchinson said.
"This is a public health issue and a community transmitted virus, not a meat industry or food safety issue."
Victorian Premier Daniel Andrews today said that if people continued to go to work with symptoms, it could shut down industries. His comment came as Victoria recorded a record 500 new COVID cases in a single day. He referred to possible 'next steps' if people continue to go to work when they are sick.
"If we were to continue to see outbreaks, if we were to continue to see people quite obviously attending work when they shouldn't be, then every option becomes on the table," the Premier said. "Next steps may well have to include closing a number of these industries if we continue to see people attending work. We have to work together to keep anyone who's got symptoms away from work. Otherwise businesses will have to close."
AMIC said it reinforced the VIC Premier's message for workers to stay away from their workplace if they display symptoms, get tested and follow the isolation instructions.
"This is a people-transmitted virus and will be solved by people implementing and abiding by COVID Safe recommendations," Mr Hutchinson said.
The primary focus of AMIC's impacted members had been on the health and safety of its workforce, ensuring functional plans are implemented to minimise the risk of spreading the virus among staff. This includes temperature screening, daily sanitation, regular sanitisation, social distancing, and staggered shifts.
"The impacts of any potential closures of processing plants has a flow through effect to our wholesalers and retail network chains, which ultimately impacts our farmers and producers," Mr Hutchinson said.
"We are an essential service feeding Victorians and Australians through independent retail and supermarket chains, and the global community, daily, and we take this very seriously. While as an industry we continue to remain supportive of our front-line health workers and health department staff working with our members daily, some information has been confusing for Victorians, with changing advice to workers regarding isolation."
"We do not want to see the shut-down of our industry due to changing rules that we have limited to no control over. As such, we are working closely with the Department of Health and Human Services and those members that have been impacted to ensure minimal interruption to business operations and communicate a clear set of expectations and response procedures."
While consumer demand for red meat has been higher recently, the independent retail channel sources its product from various processing facilities across Australia and had the ability to be agile in meeting consumer demands, AMIC said.